2007 Architectural in Franklin Hills hits the Los Feliz Market
Posted by Jenny Durling on Monday, April 11, 2011 at 7:08:23 AM
By Jenny Durling / April 11, 2011
Comment
2007 Architectural in Franklin Hills hits the Los Feliz Market
For fans of architectural homes, this 2007
Franklin Hills
contemporary property is a real treat.  Situated on a street to street, double lot, the Payne Residence, designed by Christopher Payne, A.I.A. of FIN Architecture, is truly a work of contemporary modernism, completed in October of 2007. It fronts on Ronda Vista Pl and has 4 bedrooms and 5 bathrooms in almost 4,000 sf. of living space.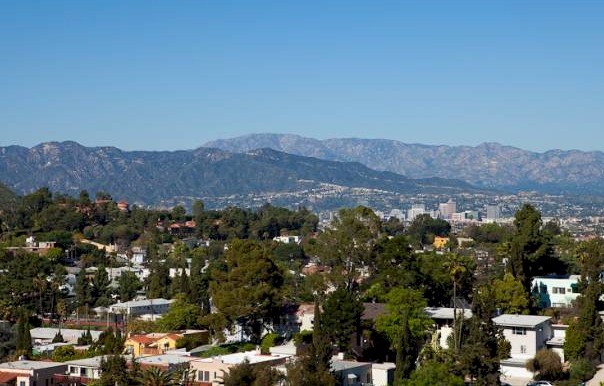 This terrific architectural
Franklin Hills
home has expansive views of the San Gabriel Mountains from practically every room, a lap pool and a separate studio space that fronts on Lyric Avenue below. The house is a linear plan that curves along the street with its v-shaped roof profiling the peaks and valleys of the San Gabriel Mountains behind it. There is a one car garage on Ronda Vista  Pl. and the studio is built over an additional 2-car garage access from Lyric avenue.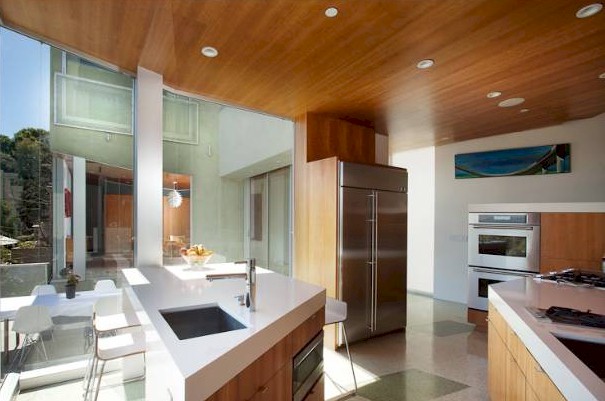 The first floor is an open plan of public spaces that include an exterior courtyard. The unique plywood ceilings of the kitchen, dining and living rooms make an interesting contract to the terrazzo floors. Bedrooms are found on the second floor all with dramatic views and abundance of natural light. The corridor widens at one end creating a studio/library space. Stairways at each end of the house add both functionality and design interest.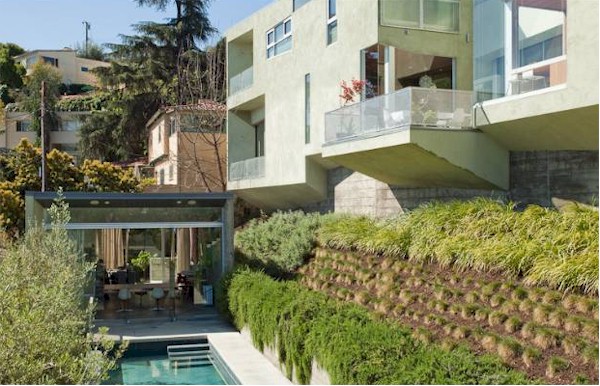 There is a separate 600sf glass and concrete studio with a ¾ bath on the Lyric side of the property. The concrete floor of the studio flows out to form the pool deck, blurring the lines between indoor and outdoor space. The lap pool reflects to both the studio and public rooms of house above.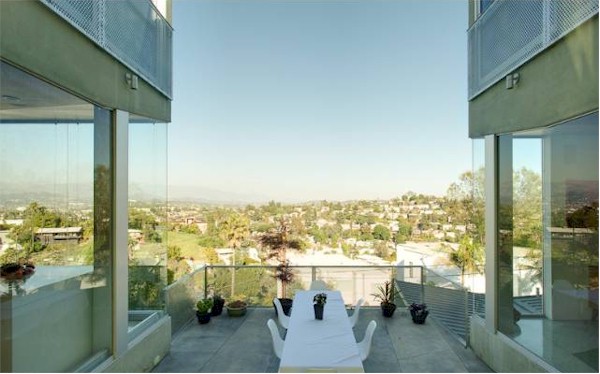 This modern home  was designed using sustainable and renewable materials such as bamboo and light weight concrete floors which provide passive solar heating, even while the dual glazed and low E windows regulate the interior temperate.  The house was designed with carefully places openings that allow for a lot of natural light as well as cross ventilation to cut down on the use of air conditioning with the help of the UV coated exterior plastic material that reflects heat away from the home. Additional heavy insulation of the west facing side of the house creates both a sound and thermal barrier.  The efficiency continues with low flow toilets, energy star appliances, tankless water heaters and a hot water loop for true on demand use.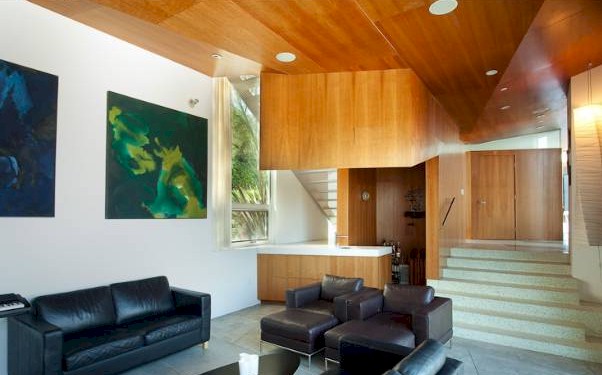 Currently listed with Crosby Doe Associates for $2.495,000, 3813 Ronda Vista Pl.  is certainly an escape from the norm in the
Franklin Hills
 area of
Los Feliz
.  For more information on this particular property and buying or selling property in 
Silver Lake
,
Echo Park
,
Los Feliz,
and
surrounding areas
, contact me directly at 213-215-4758 or check out
LApropertySolutions.com
Jenny Durling Broker Associate L.A. Property Solutions 213-215-4758
info@LApropertySolutions.com
LApropertySolutions.com
Copyright © 2011 By Jenny Durling * 2007 Architectural in Franklin Hills hits the Los Feliz Market*