54th Annual Los Angeles County Holiday Celebration
Posted by Jenny Durling on Monday, December 23, 2013 at 7:18 AM
By Jenny Durling / December 23, 2013
Comment
Yes, tomorrow is Christmas Eve already, and the Music Center is once again providing an afternoon of free holiday entertainment for the whole family. Even the parking in the Music Center garage is free!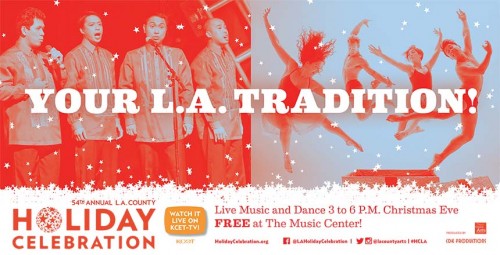 2013 celebrates the 54th annual Los Angeles County Holiday Celebration. This muti-cultural even brings music, singing and dancing of all types and from many culture with performance from all over L.A. County.
Funded by the Los Angeles County Board of Supervisors, this community event of seasonal musical and dance has taken place on Christmas Eve continuously since 1959!
This annual event takes place at the Dorothy Chandler Pavilion at the Music Center, 135 N. Grand Avenue. The show runs from 3-6pm.
If you want to see the whole thing from start to finish, make sure to arrive plenty early. Doors open at 2:30 but expect a line well before that. No tickets or reservations are required.
People do tend to come and go so if you can't get in right away, likely space will open up as others leave the event.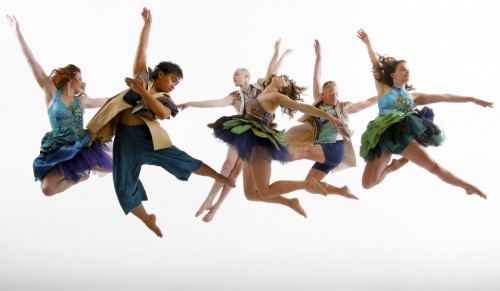 2013 lineup of performers
• Aditya Prakash Ensemble - classical Indian music with jazz and Latin rhythms.
• ARC Hand Bell Choir - traditional holiday selection played with hand bells
• Artemusica- vocal ensemble performing holiday classics in the Baroque style.
• Ate9 dANCEcOMPANY – performing modern dance created specifically for this eve.
• Colburn Children's Choir and Young Men's Chorus of 50 voices singing in Hebrew and English.
• Gay Men's Chorus of Los Angeles
• Gypsy Allstars -music fusing Spanish rhythms with Eastern influences.
• Grandeza Mexicana Folk Ballet
• Harana Men's Chorus- seasonal repertoire in English and Tagalog.
• Immaculate Heart of Mary Children's Choir -traditional Filiipino songs
• Invertigo Dance Theatre- will perform a dance portraying a Jewish family in a time of celebration and reflection.
• JazzAntiqua Dance and Music Ensemble - jazz dance performance
• Jung Im Lee Korean Dance Academy - Korean drumming dance
• Mariachi Divas de Cindy Shea - female mariachi ensemble performing in English and Spanish.
• Palmdale High School Choral Union- a 45-person chorus will present traditional and jazz-style holiday selections.
• Praizum a 20-member vocal ensemble, will perform gospel hymns with a contemporary flavor.
• Quetzal – East L.A. Chicano rock band performing songs celebrating the holidays.
• Salvation Army Tabernacle Children's Chorus - light-hearted holiday songs. • Sarah Reich and Tap Music Project – tap dance performance set to live holiday music.
• South Bay Children's Choir -80-voice ensemble, will sing traditional seasonal favorites.
Broadcast times for KCET
For those who can't make it to the live event, the entire 3 hour program will be simulcast on KCET beginning at 3pm and it will play at 8pm that evening. You get another chance to see it on TV Christmas day at noon, 3pm and 9pm.
For additional info: www.holidaycelebration.org, (213) 972-3099
Happy Holidays!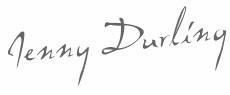 Jenny Durling, Broker
LA Property Solutions
213-215-4758