Crazy Bunny Lady?!
Posted by Jenny Durling on Sunday, September 25, 2011 at 6:04 PM
By Jenny Durling / September 25, 2011
2 Comments
Who hasn't heard of a crazy cat lady? What about crazy bunny ladies?!  With the increase in foreclosed properties over the last few years, Realtors are seeing their share of abandoned pets. We hear of dogs or cats being left behind in foreclosed homes, but what about bunnies?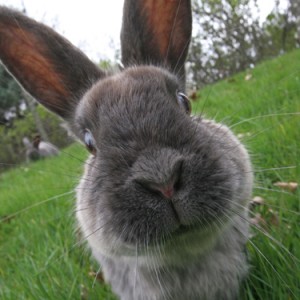 A few days ago I showed a foreclosed property to a client. She's looking for something around the Atwater Village, Glassell Park area that is within her budget. We found a small house on a huge lot and she really liked it. We also found a bunny rabbit running around in the back yard. The lot of this property is more than 8,000 sf. That's  lots of room for a rabbit to roam but we  both worried about the rabbit. It was small and frightened and we both guessed that it had been someone's Easter present that was simply left behind when the family moved out of the house. As much as rabbits might like open spaces, they can fall prey to dogs and coyotes and any number of larger animals out looking for dinner. When my client left, I called every pet store in the vicinity looking for one that sold rabbit food.  After some online research, I returned the next day with timothy hay and  a bag of rabbit food. The bunny was in the same spot he'd been on my last visit and no more interested in human interaction than previously but I put out hay and food and made sure there was fresh water available.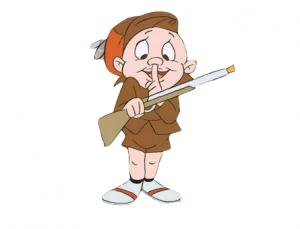 The next day I came back to the property with a cage large enough for a Golden Retriever and my husband in tow. When we arrived, there was the bunny in the same spot but this time we found a second bunny as well!  Two hours of chasing rabbits ( I felt like Elmer Fudd) and guiding them where we wanted, we ended up with two young bunnies in the cage.  My client wants to buy the property and would raise the bunnies after it closes, and I told her I would keep the rabbits for her until she could complete the transaction and build a safe enclosure for them. My husband and I carried the crate to the car, when we were surprised by the sound of a woman yelling in Spanish and a little boy crying. I couldn't tell if she was yelling at me or the child but moments later a teenage girl came from the apartment complex next door and asked what we were doing with the bunnies.  I explained that the house had been foreclosed and the bunnies had apparently been abandoned by the former owner.  Someone needed to take responsibility for caring for the abandoned pets and I had taken it upon myself to do that rather than call the humane society.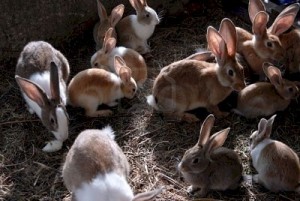 Not so fast.... The girl and the crying boy (her little brother), took me down the block and around the corner to one of their neighbor's homes.  An older German woman came down the stairs and explained that the rabbits were hers!  I can't tell you what her living conditions actually are, but from the street it was not a pretty site.  She was pleasant enough, but when I asked about the rabbits she could not tell me how many she actually has. It started with a pair and well, you know how it is with rabbits. Apparently she has so many that  the neighbors are used to and expect rabbit running around freely between the houses and apartment buildings! Sure, I gave her the rabbits it took us two hours to catch. Do I feel silly? You bet! But then again, I'm glad I did what I thought was the right thing at the time. Now I'm wondering if this crazy bunny lady should be reigned in?  If she were raising dogs or cats by the truckload and letting them roam freely, she'd certainly have the law after her. I'm not clear on what the law is regarding rabbits but I guess I'll take the time to find out now !
Jenny Durling Broker Associate L.A. Property Solutions 213-215-4758
info@LApropertySolutions.com
LApropertySolutions.com
Copyright © 2011 By Jenny Durling * Crazy Bunny Lady?!*
———————————————————————————————————————————————-
Buying or Selling Los Angeles Real Estate
Buying a Los Angeles home
 is no simple process.  Los Angeles is a huge city!  If you are new to the area or planning a move to the area, working with an agent who specializes in the neighborhoods that interest you such as  
Silver Lake
,
Los Feliz,
Hollywood Hills
, 
Echo Park
, and 
Eagle Rock
 can be of critical importance.  If you have or plan to have children, you'll want a 
Los angles real estate agent
 who can direct you to the best area schools.  Where will you be working?  An experienced local 
Los Angeles Realtor
 can help you narrow down the neighborhoods that will make the most sense for your commute to the office.  I am your local resident expert and can be your guide in finding the right 
Los Angeles properties for sale 
to choose from that will fit your budget and lifestyle! It is also important for
Los Angeles Home Sellers
 , to work with a local expert. When I 
list and sell a Los Angeles home
 for a client
,
 I help them understand the local market and the minds of local agents and buyers alike. My priority is to 
sell your Los Angeles home
 for the most money possible in the least amount of time.  When you hire me to 
list your Los Angeles property
, you hire me to market it fully to fellow agents, their buyers and the public both online and in person. Many agents will represent both the buyer AND the seller in a single transaction.  That is not how I operate. I believe that it is my duty to represent only YOUR interests and feel it would be a conflict of interest to represent a buyer for your 
Los Angeles property for sale
 simultaneously. When I 
list and
sell Los Angeles homes
 for my clients, I make the process as smooth and pleasant as possible. You will never have to question where my loyalties lie. You can trust me to take care of the details and keep you informed every step of the way. Please let me know how I can best serve your real estate needs by filling out 
the online contact form
 , or better still, give me call today at 213-215-4758.