Creation and History of Hollywoodland in the Hollywood Hills
Posted by Jenny Durling on Saturday, April 16, 2011 at 6:17:23 AM
By Jenny Durling / April 16, 2011
Comment
Creation and History of Hollywoodland in the Hollywood Hills
Development of Hollywoodland began in 1923 with the syndicate owned by Harry Chandler, developer Sidney H. Woodruff and the founder of West Hollywood, General M. H. Sherman. The L.A. Times announced this new developments as one of the most attractive residential sections of the City of Los Angeles", envisioning it as a Mediterranean Riviera in the Hollywood Hills between Lake Hollywood and Griffith Park.
Architectural drawings inspired by regions of France, Italy and Spain were used to draw east Coasters to the hillside lots where their homes would be complete in time to avoid the next harsh winter.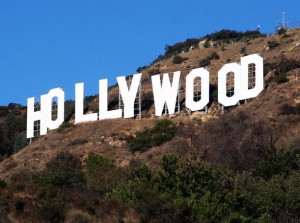 When originally built, the
Hollywoodland
sign had was comprised of individual letters 30 feet wide and 50 feet tall and constructed out of 3x9' metal squares rigged together with scaffolding. There was a 35' diameter dot below the sign with a perimeter of 20-watt lights to attract attention. The sign itself featured an addition 4,000 bulbs spaced 8 inches apart which blinked out "Holly", "wood", "land". As you can see from the old photo- it would have been hard to miss this landmark sign during the day but the lights would certainly have had a dramatic effect at night. Originally intended to be taken down after just 1.5 years, the sign has endured 80+ years in various states and become a true landmark for Hollywood and a symbol of all that it has to offer.
Living in Hollywoodland
defined living in the
Hollywood Hills
. As showy as the sign was, the developers managed to lay out homes in such a way as to create a small town charm.
Hollywood
Celebrities were drawn to the area then as they are now for the beauty, seclusion, views and great location. The proximity to the major studios is hard to beat. Many
Hollywoodland homes
have a fantasy feel to them. You'll find castles, Tudors and ivy-covered cottages right alongside Spanish and mid-century gems. Homes in the higher elevations have views over the canyon and city all the way to the ocean. Like many areas of Los Feliz and the Hollywood Hills, Beachwood Canyon and Hollywoodland are well-loved and have loyal homeowners keeping their famous neighborhood worthy of its place in history and the well known sign in its hills.
The original stone gate still marks the entrance to the Hollywoodland community.
View Larger Map
For more area information and assistance with buying or selling property in The
Hollywood Hills
,  
Silver Lake
,
Echo Park
,
Los Feliz,
and
surrounding areas
, contact me directly at 213-215-4758 or check out
LApropertySolutions.com
Jenny Durling Broker Associate L.A. Property Solutions 213-215-4758
info@LApropertySolutions.com
LApropertySolutions.com
Copyright © 2011 By Jenny Durling * Creation and History of Hollywoodland in the Hollywood Hills*
Map of Available Properties in the Hollywood Hills
Rollover to preview, click to view listings