Curb Appeal- Make That First Impression Count
Posted by Jenny Durling on Sunday, September 18, 2011 at 11:50:17 AM
By Jenny Durling / September 18, 2011
Comment
You Know What They Say About First Impressions-  It's The Same Thing When It Comes To Your Home's Curb Appeal
Most of us are so used to the way our homes look that we don't give it much thought, but if you are planning to sell, great curb appeal can make the sale faster, easier and many times, more lucrative as well.  Take a minute to walk across the street and give your house a good look.  If what you see is less than stellar, don't worry, there are inexpensive ways to dress your place for success!
Now That You Have Seen Your House From a Buyer's Perspective, Make a Plan
Rather than run out to the nearest garden center and buy a flat of flowers, take some time to determine what will make the most sense and still keep you within budget. What plants do you already have?  Perhaps you simply need to prune trees, shape bushes, pull weeds and get that lawn back to green! As unfair as it may sound, an unkempt yard can lead a prospective buyer to believe that the house may have deferred issues as well. If you feel your garden is a little bare and could use an extra punch, make sure that the plants you choose will thrive in the areas you intend to plant them. If you are planting in a shady spot, stick with shade plants. It may sound obvious but unless a plant is labeled 'full sun' many plants simply can't take the heat and your work and dollars will go down the tubes in a heartbeat! Do a little online research or even stop by a local garden center and ask for advice.  If you live in a condo or have little or no space for a garden, you can add a couple of big pots with colorful plants on either side of your door. They will brighten your doorway and create a welcoming entrance for visitors.
How Does the Walkway Look?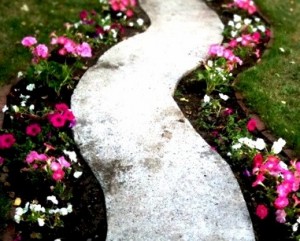 Replace missing and broken pavers. If you have space, you can all a row of bricks along the edge or plant bright season blooms along the edge to create interest and draw the eye towards the front door. Speaking of doors, a fresh coat of paint on just the front door can make a huge difference in the way your home appears. I have clients who have already told me the first thing they are going to do when they buy a house is paint the front door red! Red may not be your thing, but a bright or contrasting color will definitely add interest and is an inexpensive 'fix'. Add a nice, new welccome mat and you are good to go.
What About the Backyard?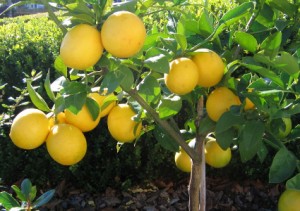 Agreed, the backyard has nothing to do with curb appeal, but as long as your are working the garden you might as well put some energy in the backyard as well. In Southern California, most people think of the backyards as an extension of their living space. If you have the space and don't already have one, plant a citrus tree. The Meyer Lemon is a favorite and they grow pretty quickly. I can't imagine living in L.A. without a lemon tree- it's almost a requirement!  A small tree will grow pretty quickly and won't cost a whole lot. It will definitely be worth the investment. For more ideas on what to do to get your house ready for market, simply give me a call at 213-215-4758.  I can stop by and give you my objective opinion on what small changes you can make to the outside of your home to get that first impression you are hoping for!
Jenny Durling Broker Associate L.A. Property Solutions 213-215-4758
info@LApropertySolutions.com
LApropertySolutions.com
Copyright © 2011 By Jenny Durling * Curb Appeal- Make That First Impression Count*
----------------------------------------------------------------------------------------------------------------------------------------------
Buying or Selling Los Angeles Real Estate
Buying a Los Angeles home
 is no simple process.  Los Angeles is a huge city!  If you are new to the area or planning a move to the area, working with an agent who specializes in the neighborhoods that interest you such as  
Silver Lake
,
Los Feliz,
Hollywood Hills
, 
Echo Park
, and 
Eagle Rock
 can be of critical importance.  If you have or plan to have children, you'll want a 
Los angles real estate agent
 who can direct you to the best area schools.  Where will you be working?  An experienced local 
Los Angeles Realtor
 can help you narrow down the neighborhoods that will make the most sense for your commute to the office.  I am your local resident expert and can be your guide in finding the right 
Los Angeles properties for sale 
to choose from that will fit your budget and lifestyle! It is also important for
Los Angeles Home Sellers
 , to work with a local expert. When I 
list and sell a Los Angeles home
 for a client
,
 I help them understand the local market and the minds of local agents and buyers alike. My priority is to 
sell your Los Angeles home
 for the most money possible in the least amount of time.  When you hire me to 
list your Los Angeles property
, you hire me to market it fully to fellow agents, their buyers and the public both online and in person. Many agents will represent both the buyer AND the seller in a single transaction.  That is not how I operate. I believe that it is my duty to represent only YOUR interests and feel it would be a conflict of interest to represent a buyer for your 
Los Angeles property for sale
 simultaneously. When I 
list and
sell Los Angeles homes
 for my clients, I make the process as smooth and pleasant as possible. You will never have to question where my loyalties lie. You can trust me to take care of the details and keep you informed every step of the way. Please let me know how I can best serve your real estate needs by filling out 
the online contact form
 , or better still, give me call today at 213-215-4758.