Echo Park – a 'Top 10 Great Neighborhood' Rich in History
Posted by Jenny Durling on Wednesday, September 19, 2012 at 7:01 PM
By Jenny Durling / September 19, 2012
Comment
Historic architecture, breathtaking hillside topography, pedestrian friendly streets, and engaged residents all contributed to Echo Park's American Planning Association designation as one of 2008's Top 10 Great Neighborhoods.

Originally part of Edendale prior to the construction of the park itself, Echo Park is rich in both history and diversity of population. The community has been and is home to wealthy businessmen, working class families, budding artists, musicians, and writers of all races and ethnic backgrounds.
Red Gulch and Red Hill
Prior to World War I, the Echo Park hillside near Elysian Park became home to a large population of Socialists, Communists, and other progressive radicals. At that time, the area earned the nicknames Red Gulch and Red Hill. When communists left Boyle Heights during the First Red Scare in the 1920's, a number of them settled in Echo Park. Many stayed until the more widespread Red Scare in the 1950's, when the McCarthy era took a heavy toll. Many known and suspected Communists lost their jobs or were blacklisted.
However, some "Red Diaper babies" still do reside in Echo Park. Historians note that it was fear of socialism that postponed the building of public housing and allowed the Mexican-American residents of Chavez Ravine to remain until the 1960's, when Walter O'Malley purchased the land for construction of the future Dodger's Stadium.
The early film industry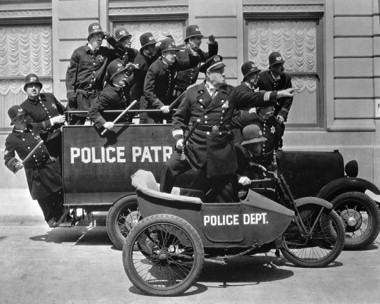 While most think of Hollywood when they think of the film industry, it actually began in a 4-block section of Allesandro Street (now Glendale Boulevard) in Edendale (now Echo Park).
In the early 1900's, Edendale was widely known as the home of most major movie studios on the West Coast.
Mack Sennet's Keystone Studios originated here – producing films featuring such well known silent movie stars as Charlie Chaplin, Gloria Swanson, western star Tom Mix (imortalized at nearby Edendale Grill) and the legendary Keystone Kops.
Even if you've never seen a silent film, you've no doubt seen Echo Park in movie theaters and on your TV screen. The 1960's television series Gilligan's Island was shot here, as were scenes in Michael Jackson's 1983 video, "Thriller."
Today's filmmakers still favor Echo Park for the perfectly preserved Victorian manors of Angelino Heights and craftsman-style homes and the pre-World War II look of some neighborhoods - as well as for Echo Park Lake itself. Although the film studios have moved to Hollywood, Echo Park is still home to the creative spirit.
Current residents include everyone from artists, to singers, to authors, to actors and actresses.
Oil!
Residents were none too thrilled when, in 1892, Edward L. Doheney "hit a gusher" near the corner of present day Colton Street and Glendale Boulevard – using the trunk of a eucalyptus tree as a drill. By the mid 1890's the area south of Temple Street was home to approximately 500 oil wells. This was California's first major oil field. Believe it or not, the first oil well in Los Angeles was right where the Echo Park swimming pool parking lot now sits. Who knew?
A neighborhood of stairs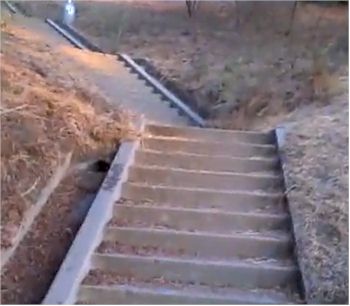 Many Echo Park neighborhoods were designed before automobiles became a way of life in America. And indeed, the steep hillsides of Echo Park were a challenge for the automobiles of that era. As a result, more than two dozen public stairways were built to allow residents convenient access to the streetcars (red car line) below.
Today, residents and tourists still use the stairways, both for access and for exercise. While most stairways were strictly utilitarian, some were stylish and impressive.
The tallest of these, the Baxter Steps (with 230 steps), offers visitors a stunning view along with a challenging workout. Here's a link to a video of someone actually walking up the entire Baxter Street Stairway. Echo Park, which has no "official" boundaries, is comprised of a number of distinct neighborhoods.
These include Angelino Heights, Colton Hill/ Belmont Heights, Historic Filipinotown, Temple-Beaudry, Sunset Heights, Victor Heights, and historic Elysian Heights. Elysian Heights
Along the remote and rustic hills on the northern edge of Echo Park lies Elysian Heights – an Echo Park neighborhood that attracted an interesting group of residents in the early 1900's. These were the free-thinking members of the Semi Tropic Spiritualists Association who came seeking seclusion. There in the hills they held midnight dances, séances, and readings by spirit mediums. While their activities drew large crowds, they also drew rancor from city officials and non-member neighbors.
Many of the homes in Elysian Heights offer views of downtown, Echo Park, and the ocean. Residents also need only to walk outside to watch the summertime fireworks at Dodger Stadium.
Today the winding hilly streets of Elysian Heights still ensure light traffic on residential streets. In fact, some are walk streets with no off street parking at all – but that has not dimmed the popularity or market value of the area's California Bungalows, Craftsman Cottages, Colonial Victorians, Spanish, mid-century cottages, and various revival style homes.
The many hills and wooded areas of Elysian Heights offer an added attraction – occasional sightings of raccoons, coyotes, and other woodland creatures. As of 2012, part of Elysian Heights is undergoing yet another change, as developers carve out part of the hills to build new eco-friendly homes.
| | |
| --- | --- |
| Echo Park Today: An eclectic mix of coffee shops, bars, restaurants, art galleries, and small boutiques offers a bohemian flavor to the area. Here 4-star dining sits alongside spectacular food stands and food trucks. Thus, Echo Park and its diverse neighborhoods still draw a colorful variety of artists and free-thinkers who enjoy and appreciate the unusual and unique.Hopefully Echo Park Lake will once again look like this when renovations are completed next year. | |
Most buyers searching for an Echo Park home are charmed by the architecture of the past. However, in response to those who prefer new construction, developments such as "36 on Echo" are springing up.
When you're ready to explore Echo Park, get in touch. We'd love to help you find the neighborhood that exactly fits your lifestyle.
Jenny Durling Broker
L.A. Property Solutions 213-215-4758
Copyright Jenny Durling 2012 *Echo Park - a "Top 10 Great Neighborhood" Rich in History*