Elysian Park - A Los Angeles Treasure
Posted by Jenny Durling on Friday, May 3, 2013 at 6:57 PM
By Jenny Durling / May 3, 2013
Comment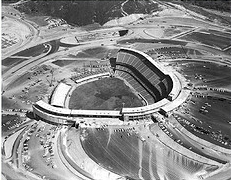 As the city's oldest and second largest park, Elysian Park is a treasure that Los Angeles residents are determined to preserve. These 575 acres (then called Rock Quarry Hills) were dedicated as a city park in 1886 and subsequent city charters have protected the land for park purposes in perpetuity.
Interestingly, the public did vote to allow construction of the Dodger Stadium in 1952 – so that the Brooklyn Dodgers would have a home when they came to California.
Also, while commercial development is not allowed, back in 1925 the Los Angeles Pistol Club (now renamed the Los Angeles Police Revolver and Athletic Club) was allowed to build a shooting range on approximately 20 acres of leased land in the Chavez Ravine area of Elysian Park. When the 1932 Olympics were held in Los Angeles, the Pistol Club shooting range served as the venue for the Olympic revolver and pistol matches.
Elysian Park Rock Garden
In 1935 the Parks Commission gave permission for construction of an athletic center, including a rock garden.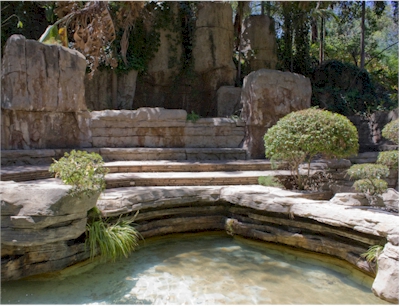 In 1937, the club hired landscape artist Francois Scotti to design the garden, which includes four pools, stone seats, waterfalls, a barbecue pit, meandering rock pathways, and even a modest amphitheater.
Soon thereafter, the Los Angeles Police Department moved in and took over maintenance of the site, which can now be rented for weddings, reunions, retirement parties, or other events.
The Police Academy has also been the site of many movie and TV productions, including a couple of the Tarzan movies. You might not think of a Police Academy as a place to visit, but if you enjoy nature, this one is worth your time. In 1973 the rock garden was declared a Los Angeles Historic Cultural Monument, and visitors are welcome to tour the grounds and to stop in for breakfast or lunch at the adjacent Police Academy Diner.
"Far from the madding crowd…" Although in the middle of the city, Elysian Park is generally un-crowded. Exploring on foot gives a feeling of stepping back in time to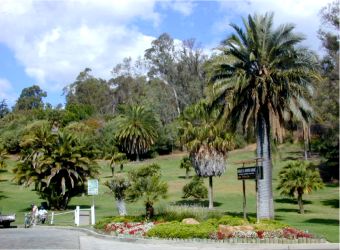 the days when the wilderness ruled.
Elysian Park remains an oasis of nature , where visitors venturing deep into the park can shed the stresses of city life as traffic and industrial noise give way to the music produced by mockingbirds, jays, red-tailed hawks, bush tits, Audubon's warblers, red-shafted flickers, and the other feathered residents of this Audubon Society bird sanctuary.
Portola Trail draws serious hikers and walkers with its 5-mile round trip and 200 foot elevation gain. The trail takes visitors through shady glens, over grass carpets and past rare palms, imported rubber trees, and native oaks. Views from the park's promontories are, of course, spectacular. More casual hikers can pick up the trail at various points, or explore shorter stretches of more than 10 miles of hiking trails and dirt fire roads leading through hilly and surprisingly wild terrain.
Visit hike-la.com for a map and directions from downtown Los Angeles. With all this at their doorsteps, it's no wonder that nature lovers choose to settle in nearby Elysian Heights and Echo Park. Enjoy the park, and give us a call when you're searching for a home nearby.
Jenny Durling Broker
L.A. Property Solutions 213-215-4758
info@LApropertySolutions.com LApropertySolutions.com
Other currently active listings nearby