Get Your Step Count Up With L.A. Secret Stairways
Posted by Jenny Durling on Thursday, September 28, 2017 at 8:14 AM
By Jenny Durling / September 28, 2017
Comment
Step up!
Once upon a time, Los Angeles. was a city connected by public transportation and governed by pedestrian traffic. During this time, stairways were the perfect way for pedestrians to have safe and direct access to transit lines. These staircases still stand as reminders of those days and as a perfect way to get your heart rate going and your step count up!
There are many sets found around Mt. Washington, El Sereno, Highland Park and Santa Monica but I want to draw attention to a couple of favorites found in Echo Park and Silver Lake .
Echo Park
There as many as 33 stairways in Echo Park, all with different levels of tidiness and difficulty but all provide a little window to the past and some great views to motivate you in your journey.
Baxter Stairway | ~230 steps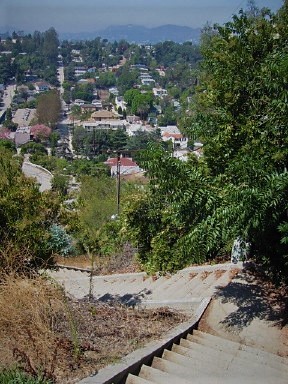 Probably one of the toughest on the list, it stands to cover a distance of approximately 180 ft in elevation. However, the view of the surrounding downtown area is definitely worth it.
Delta Stairway | ~125 steps
Beautiful route lined with agave with great views of North Central Echo Park will have you forgetting this is a workout at all!
Clinton Stairway | ~87 steps
Maybe not so secret, this stairway boasts probably the best view of Downtown and Echo Park Lake. There is an ongoing restoration project that will be bringing new life (and potentially a new mural) to the site.
There are many more stairways you can explore get those steps in and get to know the area. You can find them in this map by the Historic Echo Park: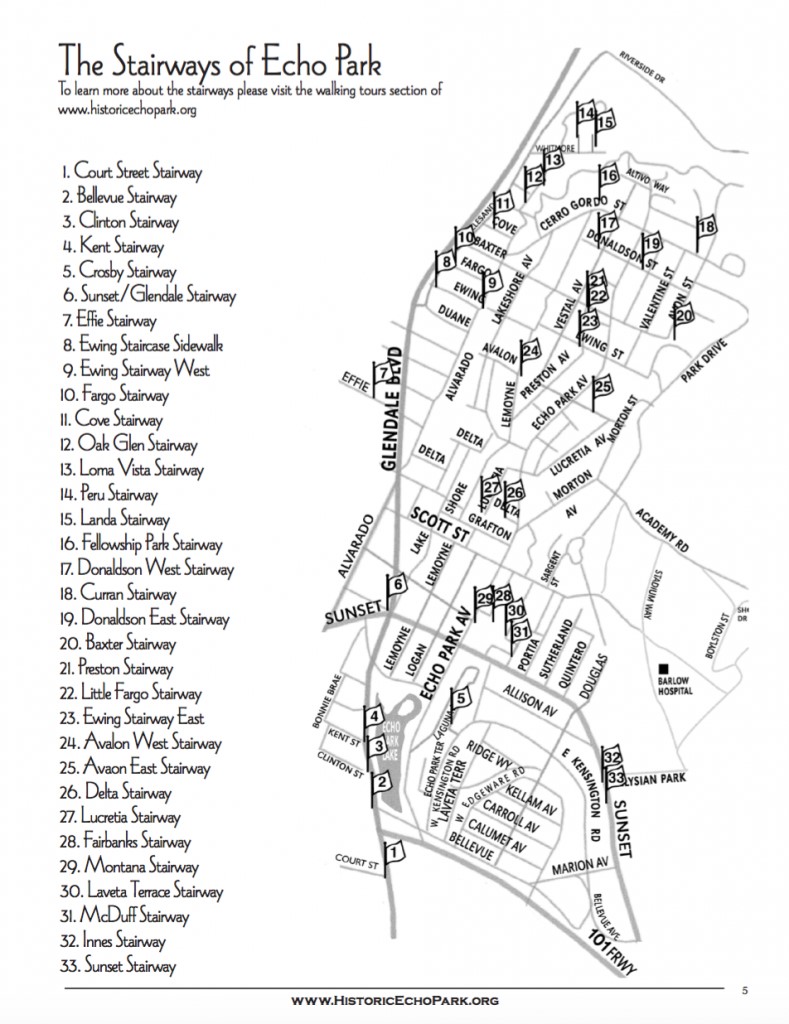 Silver Lake
Music Box Loop | ~705 Steps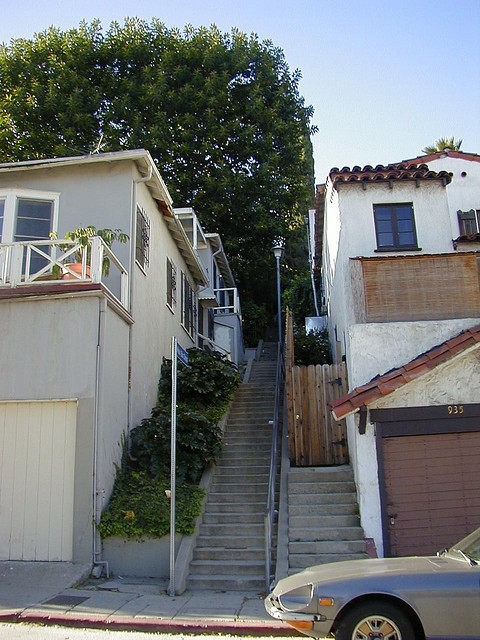 Known for their feature in the Laurel and Hardy Award-winning short "The Music Box", this stairway is somewhat of a vigorous walk featuring great views of Sunset and Downtown. The community actually has an annual celebration right at the base of this stairway! It can be a little confusing for first-timers so make sure you read the PDF (maybe bring it with you) from the guide at http://secretstairs-la.com/pdf/SECRET_STAIRS_WEBWALKS1.pdf
Micheltorena Heart Stairway | ~170 steps
Very Insta-friendly and straightforward climb lined with palm trees and flowers. Perfect for a little break in the nice L.A. weather.
Meadow Valley Terrace Stairway | ~90steps
Although one of the shortest on the list, this one is a favorite due to the philosophical musings painted throughout the stairway to brighten your climb.
There are many more beautiful routes across Echo Park as well as painted stairways across Silver Lake that you can explore and get your cardio on. If you are up to a challenge you can even do a tour of all 10 painted staircases across Silver Lake for close to 7 miles (and a ton of steps)!
If you are looking to buy or sell a home in one of these neighborhoods, give me a call at 213-215-4758 and we'll climb into action :-)
Jenny Durling
Guest writer- Kevin Jones. Kevin enjoys traveling, hiking and discovering delicious new restaurants. Kevin works for FitnessTrainer.com.