How Do I Price My Los Angeles Home Right Without Giving it Away?
Posted by Jenny Durling on Sunday, September 19, 2010 at 10:05:06 AM
By Jenny Durling / September 19, 2010
Comment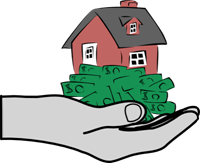 There are a number of ways to come up with the market value of your home. First, you should
know the prices of comparable homes in your neighborhood
. Pay close attention to neighborhood dividing lines, square footage, and age.  You can explore open houses in your area to compare prices and talk to friends and family who have sold a home lately.
Who knows, they might have great tips or ideas you might want to try so that you can price your home just right. Of course, your best options is to have your real estate agent do a Comparative Market Analysis, or CMA, at no cost and without obligation. A Comparative Market Analysis will assess the value of your home based on local market data which taking into account homes similar to yours which have been sold recently, how much these homes were sold for, how long they have stayed on the market, how speedy the closing can be if you decide to sell your home without delay, and which homes would be the competition.
In the current market, it's very important to price your home properly.  A house that comes on the market too high may sit for a long time and end up chasing the market down with a series of price reductions.  Your best bet is to price the property just below the current market value. This will get you considerably more attention and potentially multiple offers.
Although a comparative market analysis can  give you a great deal of information regarding the probability of the sale of your home in the local market, your Realtor's expertise in the area is your best source of information. Agents who have seen the properties used in their CMA are much more prepared to evaluate your home against others.  Don't rely on online pricing sites such as Zillow.
These are typically way off the mark. A Realtor  is trained to evaluate all aspects of the home and can give you the best suggestions on where your property should be priced for your desired outcome.
Jenny Durling Broker Associate L.A. Property Solutions 213-215-4758
info@LApropertySolutions.com
https://lapropertysolutions.com
Copyright © 2010 By Jenny Durling *All Rights Reserved *How Do I Price My Home Right Without Giving it Away?*