How long before I can buy Los Angeles home after a short sale, foreclosure or bankruptcy?
Posted by Jenny Durling on Saturday, August 3, 2013 at 1:48 AM
By Jenny Durling / August 3, 2013
Comment
Did you end up losing your Los Angeles home to a foreclosure, short sale or bankruptcy? It's hard enough for the 'regular buyer' to get into a home in the current market, but it's not impossible for even those who lost their homes to buy another one. For those would be L.A. home buyers, there is light at the end of the tunnel.
Yes, you have to wait for a while
OK, so you can't short sell your house today and buy another home next week. The good news is that there are prescribed waiting periods for qualifying for a new loan, depending on the circumstances of how you lost your last one. Generally speaking, a foreclosure will keep you out of the market substantially longer than a short sale but extenuating circumstances can shorten the wait. Take a look at this chart and you'll be able to see which waiting period applies to you and when you will be able to buy a home again.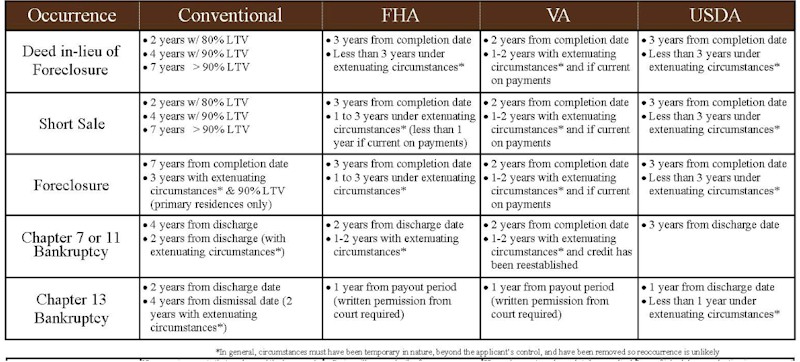 Clean up that credit! Hopefully you've been keeping your nose clean and not doing any more damage to your credit. Los Angeles Buyers must have a pretty clean, if not perfect credit history since their short sale, bankruptcy or foreclosure. One little late payment could disqualify you for a loan even if you've already passed the prescribed waiting period, so make sure you are making all payments on time and not getting in over your head with credit card debt. Having stable employment can also be key to qualifying for a loan but as long as you can explain gaps or changes in employment, there will be some banks willing to give you a mortgage.
Consult a loan professional
Can I help you find your next home? Of course! However, I am not a loan specialist and there are some pretty complex things involved in qualifying. For that reason it's best to get advice from a qualified loan officer or mortgage broker sooner rather than later.
If you would like a recommendation for a terrific loan professional, give us a call at 213-215-4758 and we will put you in touch. If you've already managed to qualify to buy a Los Angeles property, then let us help you find the perfect place. Just give us a call or fill out the contact form and we'll get in touch with you right away. Jenny Durling LA Property Solutions Broker- owner 213-215-4758