How The Mills Act Can Save You Boatloads of Cash Every Year on an Historic Home
Posted by Jenny Durling on Thursday, December 12, 2013 at 5:22:39 PM
By Jenny Durling / December 12, 2013
Comment
Wouldn't it be wonderful if the City of Los Angeles looked down and saw which homeowners were hard at work sprucing up the historic homes that make this city beautiful and said, "Hey, let us give you money for that!"  Well, as someone out there shopping Los Angeles real estate or looking for a Realtor, you should know that this agreement does exist between the city of Los Angeles and its property owners. It's called
The Mills Act
and if you purchase a qualifying property, you could receive a significant tax break in exchange for keeping your historic home well-maintained or restoring it to its original grandeur.

 What exactly is The Mills Act?
According to California's Office of Historic Preservation (the authority on the subject), The Mills Act:
"...allows qualifying owners to receive a potential property tax reduction and use the savings to help rehabilitate, restore and maintain their buildings."
 "Local governments have adopted the Mills Act because they recognize... the important role historic preservation can play in revitalizing older areas, creating cultural tourism, building civic pride, and retaining the sense of place and continuity with the community's past."
 How can I find a property that qualifies for The Mills Act?
If you are purchasing an historic property or a designated Historic-Cultural Monument or it is deemed a "contributing structure" in an
Historic Property Overlay Zone (HPOZ)
, then you're all set.  You just take over the rolling 10-year contract from the current owner.  However, if you're interested in rehabbing an historic property that needs significant work, you can apply to enter into a contract with the City of Los Angeles under The Mills Act.  They prioritize projects that are:
1. Urgent
- the building might collapse without extra financial incentive
2. Unique
- the more distinct, the better
3. Funded
- you've got third-party funding coming from elsewhere, so they trust you're more likely to get the project done
4. Providing affordable housing
- you will create low-income housing as a result of the restoration
5. Providing affordable goods
– if it's a commercial building, they'd rather have you sell fruits and vegetables in low income areas than antiques in a loft district. Both owner-occupied and income producing properties quality.
 How much can I actually save?
It's not uncommon to find your property taxes reduced by 60% annually. The formula uses the potential rental income of your property to determine it's Mills Act value. If you're good at wrapping your brain around numbers at a glance, check out this hypothetical calculation below, published by The City of Berkeley. (Yes, it WOULD be fabulous if you could buy a house in Los Angeles for $250,000!)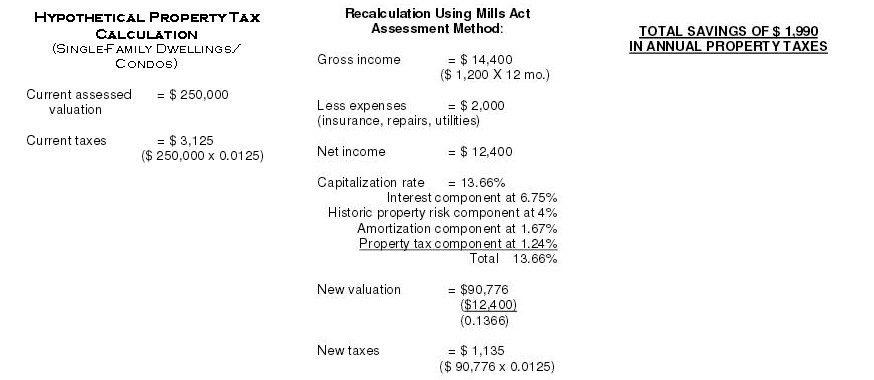 Any other pluses?
Qualifying homes have proven very attractive to real estate buyers, so when it's time to re-sell, you know you'll have a hot item on your hands.  Also, the neighborhoods where there are plenty of qualified homes (
Historic Preservation Overlay Zones
like Highland Park-Garvanza,
Mount Angelus
,  and
Whitley Heights
) tend to be charming, interesting and have strong community ties.
What are the drawbacks?
You have to be prepared to honor your end of the agreement.  Inspectors usually do a once per year drive-by and can fine you if you are not maintaining your property or if you did not perform agreed-upon improvements.
Arvixe review
Also, if you want to cancel your contract with the City of Los Angeles, you either pay 12.5% of your home's  pre-Mills Act valuation or give 10 years notice. Also, word on the street is that Los Angeles may be nearing its cap of $1,000,000 in tax loss due to The Mills Act.  Once they've hit that mark, no new properties may be eligible for the tax incentive. But, occasionally you'll be able to find exquisite, pre-qualified structures on the market. Jenny Durling, Broker L.A. Property Solutions 213-215-4758