Laughlin Park- an exclusive, gated community in Los Feliz
Posted by Jenny Durling on Friday, April 2, 2010 at 1:41:39 PM
By Jenny Durling / April 2, 2010
Comment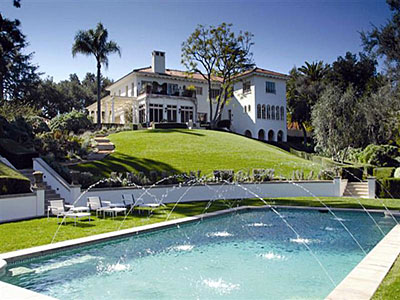 Laughlin Park is an exclusive, gated community in Los Feliz that was rated by Los Angeles Magazine as one of the "top five" neighborhoods of Los Angeles. Established in 1905, the enclave is secure behind five gates between Los Feliz Blvd and Franklin Avenue on the Western edge of Los Feliz.
Laughlin Park
was once home to many of Hollywood's rich and famous including W.C. Fields, Charlie Chaplain and Cecil B. DeMille. DeillMe's villa was built by developer Homer Laughlin who's intention was to build a neighborhood of 40 villas. Subsequent lot divisions have brought that number to 60 homes. DeMille's villa was built on the largest, highest lot in
Laughlin Park
providing majestic panoramic views. Today many well-known celebrities and filmmakers are still drawn to the neighborhood with its quiet seclusion and peaceful tree shaded streets. The
Laughlin Park
enclave includes the largest and most expensive
homes in the Los Feliz area
. The grand estates run the gamut in architectural styles from English, Mediterranean and Craftsman to Traditional and Modernist, many with remarkable city and ocean views. The area saw its share of works a number of renowned architects. Lloyd Wright figured prominently in the design of more than five
Laughlin Park homes.
The Laughlin Park community
remains well-cared for largely due to the effort of its voluntary homeowners association which maintains the gates and the private streets. This close knit neighborhood, like
The Los Feliz Oaks
, has loyal residence and shows great pride in ownership. There are currently no homes for sale in
Laughlin Park.
The last sale in this exclusive neighborhood was the Antonio Moreno estate at 5180 Linwood Dr. This 8000sf home on 1/2 acre sold in October of last year for $3,475,000. For more information on laughlin Park,
The Oaks
,
Los Feliz,
and
surrounding areas
, contact me directly at 213-215-4758 or check out
LApropertySolutions.com
Jenny Durling Broker Associate L.A. Property Solutions 213-215-4758
https://lapropertysolutions.com
Copyright © 2010 By Jenny Durling *All Rights Reserved * Laughlin Park- an exclusive, gated community in Los Feliz