Leela Thai- a great taste of Thailand in Silver Lake California
Posted by Jenny Durling on Thursday, June 16, 2011 at 9:33:57 PM
By Jenny Durling / June 16, 2011
2 Comments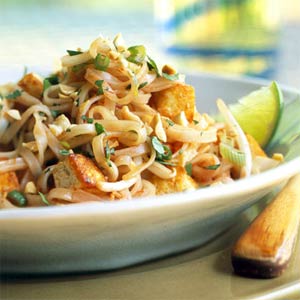 If you live in Silver Lake or Los Feliz you are lucky to have so many great places to shop, dine and enjoy life.  Don't drive west for dinner, drive east to Leela Thai. Located at 1737 Silver Lake Boulevard, the branch of the boulevard that begins south of the Silver Lake Reservoir and the Silver Lake Meadow and migrates to the east of it, Leela Thai provides delicious food for a good price in an arty atmosphere. There are
literally over a hundred reviews of Silver Lake's own Leela Thai on Yelp plus more on Urban Spoon. Very cool for the Silver Lake crowd to be getting noticed for good food as well as great music and indy films.  Even the  L.A. Times declares this Silver Lake Thai restaurant as "cheap and delicious".
 Leela Thai has had a love affair as big as an elephant with Silver Lake diners for some time. 
It's the elephant you're looking for, in fact, as you drive Silver Lake Boulevard. A bright yellow sign emblazoned with a bedecked elephant above the terra cotta-colored building lets you know that you are in for another colorful Silver Lake experience. Unlike some Thai restaurants, draped and bejeweled, Leela Thai  has encouraged her patrons to create the atmosphere by leaving samples of their own doodles, art, poetry, love letters, and reviews under the glass top on each table.  You might say it actually has a Silver Lake vibe!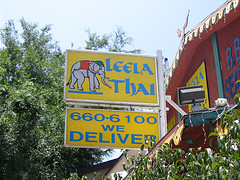 Leela Thai is vegetarian and vegan friendly, a great place for the gluten-intolerant (you can specify brown or white rice,) kid-friendly, and a stellar spot for people watching in the evenings because of the music venue, Spaceland, next door. If you've had enough of L.A.'s music scene and its denizens, eat lunch at Leela Thai. Order a 5.95 lunch special, and then take a stroll. Hidden amongst the auto body shops painted like canaries and Smurfs, you'll find Silver Lake boutiques and galleries (more about that in future posts) replete with local treasures. With less than ten bucks under your belt, you'll have money left to shop. Eat local. Shop local. In a neighborhood as great as Silver Lake, you'll be thrilled that you did. 
Leela Thai is located  near the corner of Silver Lake Blvd and Effie
View Larger Map
For more information on
Silver Lake
and
surrounding areas
,  check out
my Silver Lake Neighborhood Facebook page
, call me  213-215-4758 or read more of my posts and search the MLS  at  
LApropertySolutions.com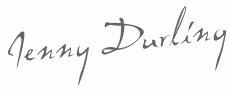 Jenny Durling Broker Associate L.A. Property Solutions 213-215-4758
info@LApropertySolutions.com
LApropertySolutions.com
Copyright © 2011 By Jenny Durling
*
Leela Thai- a great taste of India in Silver Lake, California
*
---------------------------------------------------------------------------------------------------------------------
Buying or Selling Los Angeles Real Estate
Buying a Los Angeles home
 is no simple process.  Los Angeles is a huge city!  If you are new to the area or planning a move to the area, working with an agent who specializes in the neighborhoods that interest you such as  
Silver Lake
,
Los Feliz,
Hollywood Hills
, 
Echo Park
, and 
Eagle Rock
 can be of critical importance.  If you have or plan to have children, you'll want a 
Los angles real estate agent
 who can direct you to the best area schools.  Where will you be working?  An experienced local 
Los Angeles Realtor
 can help you narrow down the neighborhoods that will make the most sense for your commute to the office.  I am your local resident expert and can be your guide in finding the right 
Los Angeles properties for sale 
to choose from that will fit your budget and lifestyle! It is also important for
Los Angeles Home Sellers
 , to work with a local expert. When I 
list and sell a Los Angeles home
 for a client
,
 I help them understand the local market and the minds of local agents and buyers alike. My priority is to 
sell your Los Angeles home
 for the most money possible in the least amount of time.  When you hire me to 
list your Los Angeles property
, you hire me to market it fully to fellow agents, their buyers and the public both online and in person. Many agents will represent both the buyer AND the seller in a single transaction.  That is not how I operate. I believe that it is my duty to represent only YOUR interests and feel it would be a conflict of interest to represent a buyer for your 
Los Angeles property for sale
 simultaneously. When I 
list and
sell Los Angeles homes
 for my clients, I make the process as smooth and pleasant as possible. You will never have to question where my loyalties lie. You can trust me to take care of the details and keep you informed every step of the way. Please let me know how I can best serve your real estate needs by filling out 
the online contact form
 , or better still, give me call today at 213-215-4758.
Search for Silver Lake Homes