Yes, tomorrow is Christmas Eve already, and the Music Center is once again providing an afternoon of free holiday entertainment for the whole family. Even the parking in the Music Center garage is free!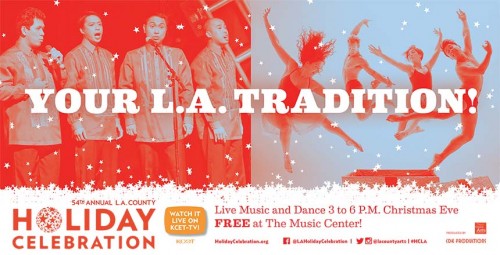 2013 celebrates the 54th annual Los Angeles County Holiday Celebration. This muti-cultural even brings music, singing and dancing of all types and from many culture with performance from all over L.A. County.
Funded by the Los Angeles County Board of Supervisors, this community event of seasonal musical and dance has taken place on Christmas Eve continuously since 1959!
This annual event takes place at the Dorothy Chandler...