Outpost Estates - A Jewel in the Hollywood Hills
Posted by Jenny Durling on Tuesday, February 11, 2014 at 9:40 AM
By Jenny Durling / February 11, 2014
Comment
A pristine enclave of about 450 homes once known as "the jewel in the hills", Outpost Estates is bordered by Franklin Avenue to the south and Mullholland Drive to the north. Runyon Canyon borders it to the west and Cahuenga Boulevard to the east.
The neighborhood roughly covers 1.5 square miles. Charles E. Toberman acquired the land in the 1920s and envisioned the development as "one of the most exclusive and beautiful residential parks in the world". He only permitted grand Spanish-style homes in the neighborhood and allotted ample space for each estate.
To advertise the luxurious development, Toberman built a towering neon sign with glowing, red letters that spelled Outpost, hoping to steal the spotlight from the neighboring Hollywoodland sign.
You'll Love Living in Outpost Estates if:
You want to be able to spread out – Many estates remain undivided and homes sit on spacious lots exceeding 10,000 square feet.
You want Fido to run free – Runyon Canyon, with its popular off-leash hiking trail, is practically an extension of Outpost Estates and the residents have done much to protect it and shield it from development. In 1984, the Outpost Estates Homeowner's Association was a key player in halting a housing development and urging the city of L.A. And Santa Monica Mountain Conservancy to purchase the 130-acre green-space and declare it a park.
You want easily accessible seclusion – In the original advertisements, Outpost Estates was billed as being "as accessible as a downtown hotel; as restful and charming as a mountain lodge". Not much has changed since the 1920's as you can find shops, restaurants, theaters and plenty of tourist attractions a mere two and a half block walk away.
You like mature landscaping and sheltered environments – There are a good eight varieties of mature trees that have been cultivated for nearly 100 years in the area, mainly Eucalyptus, Sycamore, Carob and Live Oak. When initially developed, roads were built to curve around existing trees. This lends a very mature, established charm to the area.
Neighborhood Highlights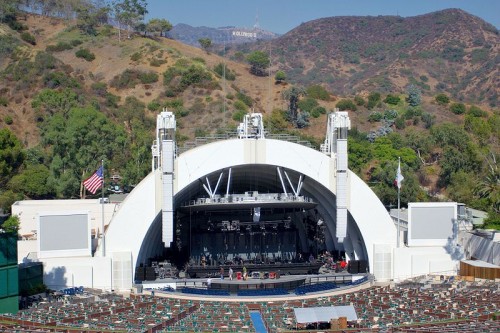 The Hollywood Bowl, which borders the northern edge of Outpost Estates Hollywood Bowl (2301 N Highland Ave) - Officially opened in 1922, a trip to The Hollywood Bowl is still the quintessential summertime event in Southern California.
With musical performances ranging from classical to electronic to folk legends, a night at the Bowl (usually preceded by a picnic on the grounds) is something everyone in the family will love.
Runyon Canyon (2001 N Fuller Ave) - This off-leash dog hiking mecca offers several different loop routes for walking on two legs or four. With views that stretch from the San Bernardino Mountains all the way to the Pacific Ocean on a clear day, this is a perennial favorite for active Angelenos. Daily yoga and boot camp are also offered near the Fuller Street entrance.
The Magic Castle (7001 Franklin Avenue) – This members-only club with a strict dress code serves up food, cocktails and a nightly menu of professional magicians doing everything from turning flowers into rabbits on the main stage to sleight of hand card tricks on the smaller stages. There is even a piano-playing ghost named Irma who takes requests from visitors.
Outpost Estates Real Estate Tip
While it is possible to find 1 bedroom condos for sale along Franklin and Cahuenga Avenue for under $500,000, if you want to live in the heart of Outpost Estates, be prepared to spend at least $1 million on a home purchase. Just give me a call at 213-215-4758 and I'll get right to work looking for the home you're dreaming of.
Outpost Estates Super Hidden Secret
The thirty-foot high neon Outpost sign had vanished from sight by World War II and no one really knew what became of it. Turns out it remains exactly where it always was, although weather and neglect have certainly taken their toll. Runyon Canyon hikers who simply keep an eye to the east as they ascend the right hand side of its main loop can see the gnarled remains of the steel signs and their girders. Once discovered, local residents tried to get the sign recognized as an historical-cultural monument, but it did not qualify because it was no longer upright.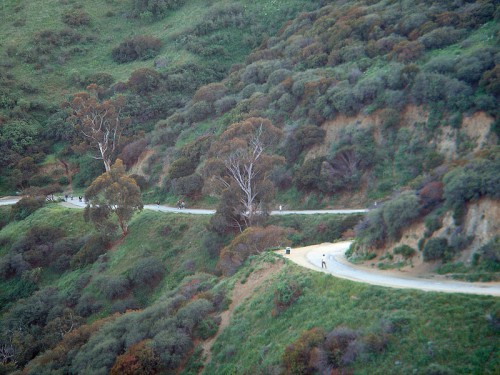 Runyon Canyon, where passers by can still find the remains of the OUTPOST sign from the 1920s.
#1 Most Interesting Fact About Outpost Estates
The site of the first home in Hollywood, an adobe built by Thomas Urquidez in 1853, was a large sycamore grove. One of the sycamore trees in particular found its way into history books as the hanging site of at least 13 alleged bandits and horse thieves. Somewhere around 1930, actress Dolores Del Rio, while building a home at the corner of Hillside Avenue and Outpost Drive, had the hanging tree chopped down during construction. For information on buying property in Outpost Estates or elsewhere in the Hollywood Hills, give us a call at 213-215-4758.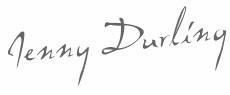 Jenny Durling
Hollywood Bowl photo credits: By Matthew Field, http://www.photography.mattfield.com (Own work) , via Wikimedia Commons Runyon Canyon photo credit: By Alain Demour/Scewing at en.wikipedia (flickr/Transferred from en.wikipedia) , from Wikimedia Commons