Pasadena's Historic Buildings, Homes, and Landmarks
Posted by Brennan Flentge on Wednesday, April 18, 2018 at 9:02 AM
By Brennan Flentge / April 18, 2018
Comment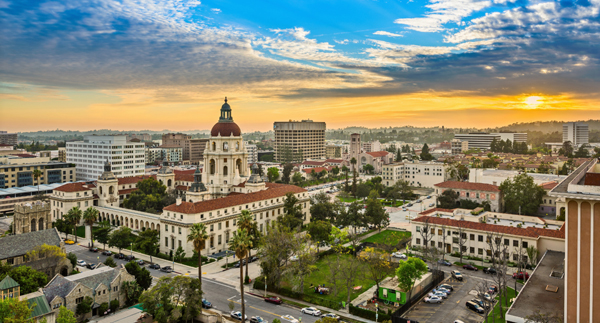 Pasadena, California is home of the Rose Bowl Stadium, the birthplace of Jackie Robinson, and a town packed with history. Located just ten miles northeast of downtown Los Angeles, even the name of this city shows its lively culture.
Originally named by its early inhabitants, Pasadena is a Chippewa word that means "Crown of the Valley". In 1873, settlers from Indiana put down roots on a narrow strip of land in the Arroyo Seco that grew into the city of Pasadena we know today.
In 1880, Pasadena designated itself as a resort town and became a hub for Eastern travelers looking to escape winter. Large, luxurious hotels sprung up, three of which are still standing: Hotel Green, Vista Del Arroyo, and a residential tower of the Maryland. From the 1890-1930s, Pasadena homes blazed a trail for the mid-century modern movement as the architecture firm Greene and Greene developed the distinctive style.
In 1970, many of these historic landmarks, including thousands of homes, were lost when the 210 freeway was re-routed. The construction was controversial not only due to the loss of history but also because many inhabitants suspected the new route was intended to further segregate their diverse neighborhoods. Despite this unfortunate decision, Pasadena has managed to maintain its rich culture and protect its vibrant past.
Today, Pasadena is known for its winding streets lined with mature trees, manicured yards, beautiful bridges, and unique houses. These well-maintained homes often do not show their age and without any prior knowledge, it is easy to miss their colorful history. While the city offers many driving or walking tours to famous Pasadena landmarks and historical neighborhoods, one can simply guide themselves once they know what to look for.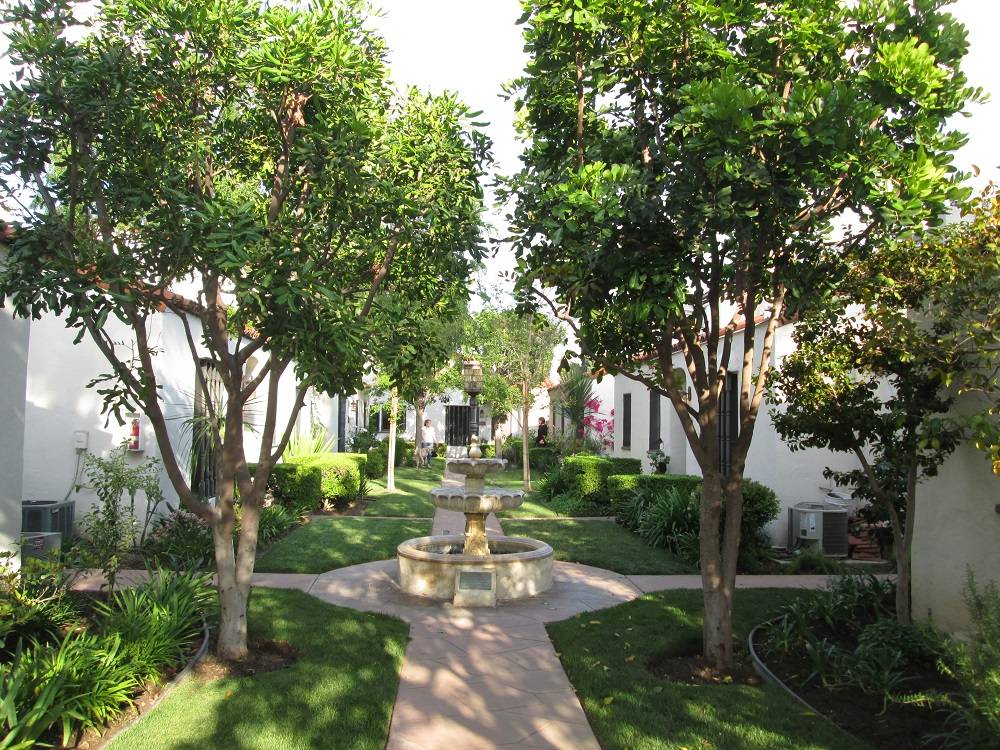 Bungalow Courts
Pasadena is considered to be the birthplace of bungalow courts, a community of small, one-story homes positioned around a central focal point such as a courtyard or lawn. Built from 1909-1942, these bungalows were originally used as seasonal homes but eventually attracted full-time residents. There are 112 bungalow courts in Pasadena, 43 of which have a historical designation. To see the bungalow courts, visit S. Marengo Ave where many of them are located. Remember that the common space and walkways are private property, so it's best to admire from the sidewalk.
Mid-Century Modern Homes
During the mid-century, Pasadena was home to industry-leading architects who led the development of modern design. Prominent figures such as Harwell Hamilton Harris, John Lautner, Richard Neutra, and Buff & Hensmen set a new precedent for residential architecture and design. These homes sought to embrace the modern era by offering open floor plans, a design decision that expressed the new movement toward sensibility in regards to structure, materials, and function. Many of these original homes are well-cared for and can be viewed by strolling through neighborhoods.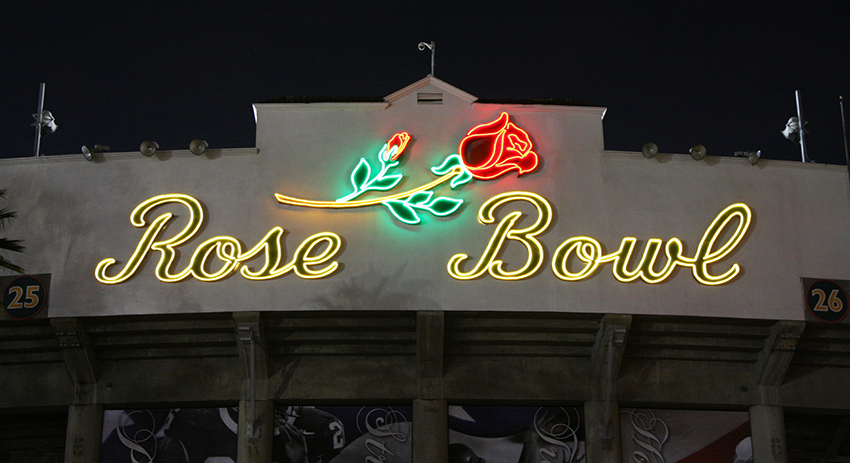 Neon Signs
From the 1920-60s, neon signs were a staple across America. Pasadena has many signs dating back to this period that have been preserved and are still proudly displayed. The city has surveyed the neon signs twice in order to protect them as they are considered beacons of the city's history and development. While many of the original signs have been removed, there are still several that can be viewed while touring the city. Visit the City of Pasadena's website for a full guide and be prepared to drive. The historic signs are sprinkled throughout the city and those that still light up are best seen at night. Go for a fun drive in the late evening around Pasadena for an incredible view of these bright lights.
Pegfair Estates Ranch Houses
Located among the large homes in the Linda Vista area is a Colonial Revival style mansion built in 1930, originally named the "Fairview". This estate was renamed to the "Pegfair" in 1939 in order to incorporate the name of one of its new owners and paying reference to the renowned "Pickfair" estate in Beverly Hills. In 1960, the estate sold part of its property to the Art Center College and Design, and much of the remaining was subdivided to build individual low-scale ranch houses. These homes became known as the Pegfair Estates. World War II created an urgent need for housing as the population in California skyrocketed. Many of these homes featured an informal style that embraced the Californian culture, popularized beginning in the early 1900s. In keeping with the traditional elements of ranch homes, the Pegfair Estates Ranch Houses feature clean lines, open floor plans, and utilize modern materials. One element that makes these homes worth visiting is the apparent Asian influence in their design. Because many of the area's prominent architects looked to Japanese gardens for inspiration, these homes embody the balance between modern design and traditional influence, resulting in a beautiful blend of indoor and outdoor space.
Victorian Era Grandeur
While Pasadena is known as a hub for mid-century modern architecture, there is a vibrant history that dates back even further. Along South Orange Grove Boulevard stands "Millionaire's Row", a series of Victorian mansions dating back to the 1890s. These homes showcase a variety of forms and architecture as designers worked to find the balance between their experience in the midwest and east coast with the new, foreign climate in California. These large homes feature many styles including (but not limited to) Queen Anne, Craftsman, and Shingle Style.
Cultural Landscapes
In addition to its historical homes, Pasadena also boasts many historic gardens. With a legacy of healthful agriculture, orchards, estate gardens, and seasonal resorts, this city quickly became known as the "City of Roses" due to the fact that most residents lived in stately homes with vast gardens. Post World War II, Pasadena quickly became a leader in architecture, including landscape architecture. Landscape architects, such as Florence Yoch and Lucile Council, have designed spectacular gardens for both private residences and public use, all available to visit or view from the street.
Moving to the Crown of the Valley
If you are looking to move to Pasadena, take a look at our L.A. Neighborhoods Guide; it will give you a detailed glimpse of what individual neighborhoods have to offer. Whether you're looking for an Altadena home tucked into the foothills of the Sierra Madres or for a historic Victorian-era property in Angelino Heights, Los Angeles has it all.
If you're looking to sell your home in Los Angeles, you're in the right place! L.A. Property Solutions provides comprehensive marketing of homes, condos, multi-unit properties. We market your home efficiently to provide you with exposure.
We'd love to hear from you to see how we can serve you and meet your needs. Contact us here today to see what your home is worth!