Say Cheese Is the Place for Cheese and Other Fine Foods in Silver Lake
Posted by Jenny Durling on Thursday, July 7, 2011 at 4:35:58 PM
By Jenny Durling / July 7, 2011
Comment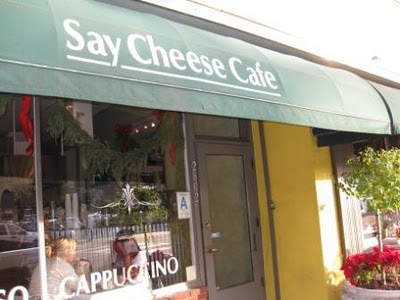 For over 36 years Say Cheese has been charming
Silver Lake
with its cheese, chocolate, champagne, and charcuterie. Those of us Silver Lake folks who trot over to Trader Joes on Hyperion need only stop in next door for even more variety. A full-service cheese shop,
Say Cheese
provides a gourmet array of cheeses, meats, and olives, does special event catering, and has a charming café that is open for lunch and breakfast for the Silver Lake crowd and visitors alike. Know a lactose intolerant cheese lover who stays away from cow's milk? Love goat and sheep cheeses, both hard and soft? You'll find it all at Say Cheese.   Owner, Glenn Harrell, lives in Silver Lake too- we were actually neighbors for five years!
Picnic and Gift Baskets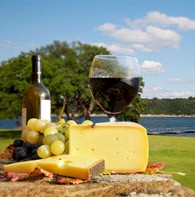 Say Cheese also assembles picnic baskets and gift baskets. There are so many great places in
Silver Lake
,
Echo Park
and
Hollywood Hills
to enjoy these goodies! No wonder people are moving to Silver Lake and buying homes with great walk scores.  Share a little Étorki or d'Affinois, and make new friends at the Hollywood Bowl or have a
picnic at Barnsdall Park
or in the recently opened
Silver Lake Meadow
at the Silver Lake Reservoir. Change your rotation at
Elysian Heights
- adjacent Dodger Stadium when you've had your fill of Dodger Dogs and Cracker Jacks. A gift basket from Say Cheese for a boss or a co-worker could be job insurance. Fortify a new mother, break the Mother's Day bouquet habit, or seduce your valentine. Say Cheese can put together a basket for any occasion.
Join the Say Cheese Club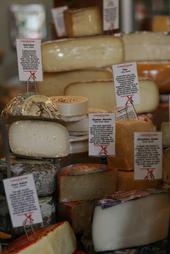 Even more enticing is the
Salon du Fromage
at Say Cheese--a special sort of cheese club that provides a cheese of the month with "a range of pairing options, recipes and suggestions." There are 3, 6, and 12-month memberships ranging from 105.00 to 360.00. If you aren't fortunate enough to
live in Silver Lake
, you can still get your share of great cheese in the mail!  Of course, there are so many other great reasons to move to Silver Lake that if cheese isn't your thing, you should check it out anyway.
Say Cheese
is Silver Lake's perfect place for a gourmet lunch, for gift shopping, for planning a party, for a vacation to France or Italy when you can't afford the price of a plane ticket. I love a little table in front on Hyperion where I can enjoy a great sandwich and people watch as
Silver Lake
folks run their errands to Gelson's, Trader Joes and the corner dry cleaner. Say Cheese takes orders by phone (323-665-0545) or by email that can be held for pick-up or shipped. If you simply can't get enough of cheese, another great place to satisfy your urge for curd and grab a bottle of wine while you're at it is
The Cheese Store of Silver Lake
over in
Silver Lake's Sunset Junction
.
Say Cheese is located at 2800 Hyperion Avenue between Rowena and Griffith Park Blvd.
View Larger Map
For more information on
Silver Lake
and
surrounding areas
,  check out
my Silver Lake Neighborhood Facebook page
, call me  213-215-4758 or read more of my posts and search the MLS  at  
LApropertySolutions.com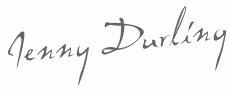 Jenny Durling Broker Associate L.A. Property Solutions 213-215-4758
info@LApropertySolutions.com
LApropertySolutions.com
Copyright © 2011 By Jenny Durling * Say Cheese Is the Place for Cheese and Other Fine Foods in Silver Lake*
———————————————————————————————————
Buying or Selling Los Angeles Real Estate
Buying a Los Angeles home
 is no simple process.  Los Angeles is a huge city!  If you are new to the area or planning a move to the area, working with an agent who specializes in the neighborhoods that interest you such as  
Silver Lake
,
Los Feliz,
Hollywood Hills
, 
Echo Park
, and 
Eagle Rock
 can be of critical importance.  If you have or plan to have children, you'll want a 
Los angles real estate agent
 who can direct you to the best area schools.  Where will you be working?  An experienced local 
Los Angeles Realtor
 can help you narrow down the neighborhoods that will make the most sense for your commute to the office.  I am your local resident expert and can be your guide in finding the right 
Los Angeles properties for sale 
to choose from that will fit your budget and lifestyle! It is also important for
Los Angeles Home Sellers
 , to work with a local expert. When I 
list and sell a Los Angeles home
 for a client
,
 I help them understand the local market and the minds of local agents and buyers alike. My priority is to 
sell your Los Angeles home
 for the most money possible in the least amount of time.  When you hire me to 
list your Los Angeles property
, you hire me to market it fully to fellow agents, their buyers and the public both online and in person. Many agents will represent both the buyer AND the seller in a single transaction.  That is not how I operate. I believe that it is my duty to represent only YOUR interests and feel it would be a conflict of interest to represent a buyer for your 
Los Angeles property for sale
 simultaneously. When I 
list and
sell Los Angeles homes
 for my clients, I make the process as smooth and pleasant as possible. You will never have to question where my loyalties lie. You can trust me to take care of the details and keep you informed every step of the way. Please let me know how I can best serve your real estate needs by filling out 
the online contact form
 , or better still, give me call today at 213-215-4758.
Search for Silver Lake Homes