Short Sales In Los Angeles, California – What You Need To Know If You are Buying Or Selling
Posted by Jenny Durling on Thursday, July 8, 2010 at 12:48:56 PM
By Jenny Durling / July 8, 2010
Comment
If you live in Los Angeles, you most likely have heard about short sales in Silver Lake, Los Feliz, Echo Park, Eagle Rock and surrounding neighborhoods. You may have heard about them from your friends, a newspaper, television, your neighbor or even a family member.
What is a short sale? 
A short sale takes place when a homeowner sells his or her home for less than he owes on his mortgage(s). Since prices were so much higher 4 or 5 years ago, there are a lot of people who paid more for their houses at that time than they are now currently worth. If a homeowner needs to move or must sell because they can no longer afford their payments, it is unlikely the current market value of their house is anywhere near what they owe on it. For example: You have a loan on your house for $650,000 but in the current market, a buyer is only willing to pay $450,000. Perhaps a similar home down the street recently sold for $435,000. Based on that, a buyer is not going to be willing to pay much more and even if they were, it's unlikely that a higher price would make it through the appraisal process. In order to get out from under your house, you would need to ask the lender to take less than you owe them or a "short payoff" amount against the existing loan (s). If the lender agrees, you have a short sale. This is a truly simplified explanation as short sales are not always easy to get through. Every lender has its own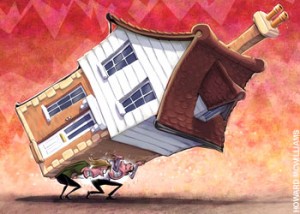 policies and procedures.  If you fall into this category and need to sell your home, you need to work with an agent who knows and understands the short sale process.
But don't short sales take "forever"?
You may have heard that a short sale is such a long and drawn out process that it's not worth dealing with.  If you are a seller, it's certainly worth attempting a short sale before allowing your home to go to foreclosure. If your real estate agents knows the ropes with short sales, your odds of success go up tremendously. For buyers, it's possible that a short sale could take 3 or more months but it's also possible that the process can be streamlined and go much quicker. So much depends on where the property is in the process when you make your offer. Don't shy away or be turned off from a short sale property. The right agent can make all the difference in getting you through the process. Patience can truly pay off as many shorts sales can be had for less than their equivalent foreclosed property.
I have had some short
sales in Silver Lake
 that have taken as short as one month while others have taken 3 or 4 months to complete.  Some of the time is due to the fact that lenders are swamped with short sales and don't have enough staff to handle them. There may also be the situation that the lender to whom you send payments is actually the servicer of the loan and not the true owner. There may be investors that have to be contacted for their acceptance.  Regardless, an experience agent knows how to get action and the squeaky wheel truly gets the grease!
If you have more than one mortgage on the property 
with different lenders, approval of a short sale must be granted by all lien holders. This makes the process more complicated and time consuming but still it is certainly possible and worth pursing both from the seller and the buyer perspective.
Why would a lender want to do a short sale in Los Angeles county in the first place?
Short sales are by far cheaper and less time consuming than foreclosures.  It can be much better for the bank's bottom line to accept less than is owed than to go through the foreclosure process at the courthouse steps. For the seller, it prevents a foreclosure showing up on your credit report and for a buyer, you may just get a better deal on a home than you dreamed possible. For more information on short sales in Los Angeles County and buying or selling property in 
Silver Lake
,
Echo Park
,
Los Feliz,
and
surrounding areas
, contact me directly at 213-215-4758 or check out
LApropertySolutions.com
Jenny Durling Broker Associate L.A. Property Solutions 213-215-4758
info@LApropertySolutions.com
LApropertySolutions.com
Copyright © 2010 By Jenny Durling *All Rights Reserved * Short Sales In Los Angeles, California- What You Need To Know If You are Buying Or Selling