Silver Lake Real Estate Market Statistics
Posted by Jenny Durling on Monday, July 11, 2011 at 8:20:48 AM
By Jenny Durling / July 11, 2011
Comment
If you are looking to buy or sell a home in the Silver Lake area, you are most likely curious about the current Silver Lake real estate market. Well priced Silver Lake homes are selling relatively quickly with many of the more desirable properties selling in multiple offers.  That said, there are still some sellers who are not being realistic about their asking price.  Such homes linger on the market until reality sets in or the property listing is withdrawn or expires. There is not a particularly large inventory homes for sale in the area right now. The MLS shows the current active listing inventory of single family
Silver Lake
homes to be 67, which coincidentally, is the same number of homes that have sold in the first half of the year. The follow chart shows Silver Lake Real Estate Market activity for the Month of June, 2011.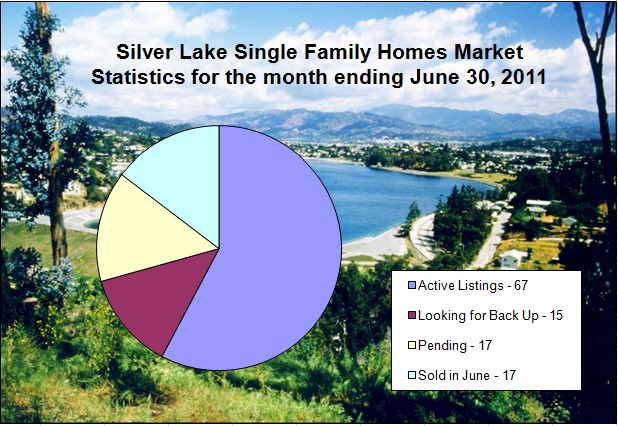 Now let's take a look at some year to date figures from January 1, 2011 through June 30, 2011. These figures are for
single family homes in Silver Lake
only and to not include
Silver Lake
 condos or income properties. If you'd like information on either or both of those categories, give me a call at (213) 215-4758.
Silver Lake Home Sales Year-to-date from January 1st, 2011 through June 30, 2011
Number of Single Family Homes SOLD: 67
Highest price -  $1,605,000
Median price -$628,000
Average price -$688,255
Lowest price - $135,000
Average Days on the Market - 71
Average Square footage 1673.89
Average price per square foot- $408.62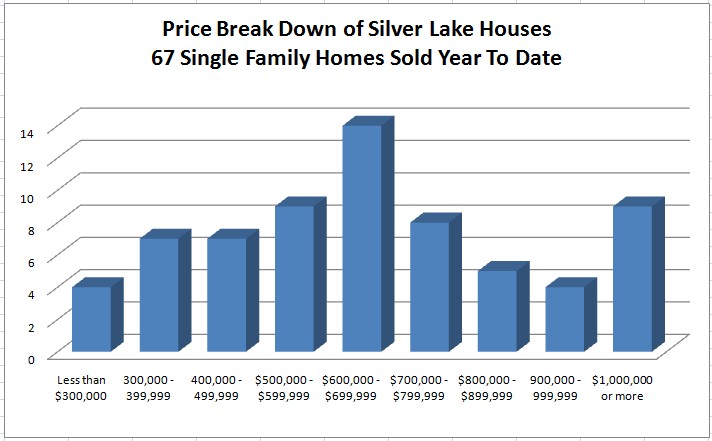 According to the information provided in the MLS, of the total number of single family homes sold in Silver Lake so far this year, 7 where short sales and 8 where bank owned. Approximately 22% of the total sales for the first half of this year were distress sales. Six of the currently active Silver Lake listings are distress sales, just shy of 9%.
Silver Lake prices
vary by location, school district, property size and condition.  The following chart shows that the majority of
sale of Silver Lake single family homes
this year (46%) have sold between $500,000 and $800,000. If you have been hoping to find a house in
Silver Lake
for less than $400,000 you'll see that only 11 homes (about 16%) have sold in that price range since the beginning of 2011.  The market for homes in this lower price range is not only very competitive, but the majority of the properties are major fixers, very small, and/or in less desirable areas.  Investors have come back into the market and are snapping many of these up for all cash. If you are looking to buy such a home to live in, you do have a time advantage in some cases. Fannie Mae's "First Look Program" for Fannie Mae-owned foreclosed homes only considers offers from public entities and those seeking to purchase a home as their primary residence during the first 15 days that a property is listed. For a list of First Look properties or assistance in buying or selling
Silver Lake
area real estate, fill out
the online contact form
, or better still, give me call today at 213-215-4758.
 
Jenny Durling Broker Associate L.A. Property Solutions 213-215-4758
https://lapropertysolutions.com
Copyright © 2011 By Jenny Durling * Silver Lake Real Estate Market Statistics*
 Search for Silver Lake Homes For Sale