Silver Lake Small Lot Subdivision – 4 New Modern Homes Near Sunset Junction
Posted by Jenny Durling on Sunday, January 22, 2012 at 1:16:19 PM
By Jenny Durling / January 22, 2012
2 Comments
1372-1374.5 Edgecliffe Drive, Silver Lake, CA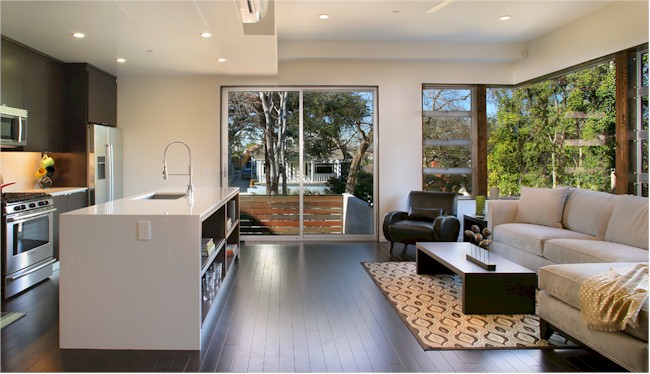 Looking for a modern home near Sunset Junction? Green City Building Co has put the small lot subdivision ordinance to good use with 4 new homes on Edgecliffe Drive in Silver Lake. Green City built these 4 Silver Lake homes as a "Modern interpretation of mid-century modern Aesthetic". Basically we are talking about cool new homes with corner glass windows, bi-fold exterior doors and steel exterior accents. The homes are eco-friendly with, passive solar orientation & thermal chimneys, solar electric systems, tankless water heaters, and low & no-voc finishes. VOC stands for 'volatile organic compounds' which continue to release toxic emissions into the air for years after application. Obviously, the lower the VOC, the better for the environment. These homes also include energy star appliances and pre-wiring for electric car charging – how's that for green building?!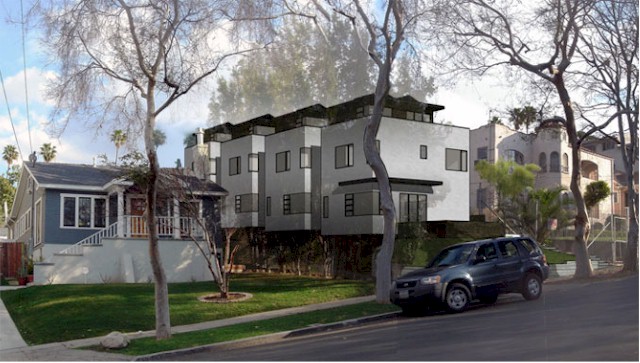 Located at 1372-1374.5 Edgecliffe Drive, these modern Silver Lake homes are not far from Sunset Blvd but far enough up the hill to provide some nice views and great natural light. All of the homes are 3 bedrooms 2.5 bath with about 1,600 square feet of livings and have their own attached 2-car garages. The homes have custom cabinetry and built in closets, Bosch stainless steel appliances and roof decks offering panoramic view of the Silver Lake and Hollywood Hills. Currently listed by Deasy/Penner&Partners, these 4 homes are priced from $745 - $795, 000 and one is already in escrow so if this sounds like something you'd be interested in, give me a call at 213-215-4758 and we can check them out together.
What is the Small Lot Subdivision Ordinance?
Los Angeles passed the Small Lot Subdivision ordinance in 2005, allowing developers to subdivide multifamily lots into smaller parcels and build individual homes on them. The new homes have smaller lots than traditional single family homes so if you are looking for a big back yard for Fido and the kids, this is not the right property for you. They are similar to townhomes as the normally have garages beneath and are 2-3 stories in order to get enough living space. The homes are not connected to each other and have generally have no home owner association dues. If you buy one, you own the building and the land beneath them, which is what really makes them different than condos.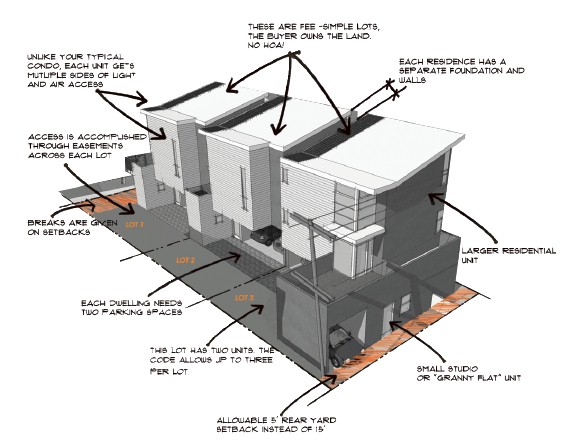 Diagram courtesy of Modative
Small lot subdivisions continue to grow in popularity. The Lofts on Rowena located at 3341-3345 Rowena are a set of 6 single family homes built under the Los Angeles small lot subdivision ordinance as well. The original developer called the complex "
Vive Los Feliz
" but never completed the project, losing the property to foreclosure. The new owner has changed the name to "The Lofts on Rowena" and is completing the last of the units. Four out of 6 of these homes are ready for occupancy and being actively marketed by Strategic Realty from $799,900 - $879,900. These units are within the
Franklin Avenue Elementary School
boundaries as well.
If you'd like to see any of these homes, give me a call and let me know what day and time works for you. For more information on buying or selling property in For information on buying or selling property in  
Silver Lake
,
Echo Park
,
Los Feliz,
and
surrounding areas
, contact me directly at 213-215-4758 or check out
LApropertySolutions.com
Jenny Durling Broker Associate L.A. Property Solutions 213-215-4758
info@LApropertySolutions.com
LApropertySolutions.com
Copyright © 2012 By Jenny Durling * Silver Lake Small Lot Subdivision – 4 New Modern Homes Near Sunset Junction*