Silver Lake Wine is a great place to spend your Sunday afternoon
Posted by Jenny Durling on Wednesday, January 12, 2011 at 3:40:41 PM
By Jenny Durling / January 12, 2011
Comment
Silver Lake Wine is a great place to spend your Sunday afternoon I know that Silver Lake Wine has been in the neighborhood for a number of years now. I actually wrote a
previous post about the business and what takes place at this hip Silver Lake wine shop
.  It wasn't until this past weekend that I had the fortune of experiencing the place for myself first hand and I can't think of enough good things to say about it.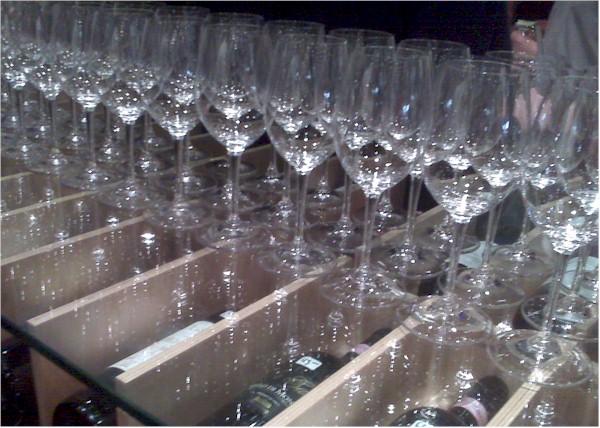 I was the recipient of a gift card for
Silver Lake Wine
during the holidays and as my husband and I rounded the corner near of the
Silver Lake reservoir
last Sunday, I suggested we pop into the shop and see what it was all about.  Unbelievably, there was a space right in front of the shop so we parked and trotted inside.
Silver Lake Wine
 is neatly laid out with both wines and spirits as well as a small selection of refrigerated beverages and specialty foods. The staff is friendly and knowledgeable and within moments of entering the shop, we were greeted and shown the lay of the land.  I think the universe was smiling on us, as we just happened to stop in 15 minutes before their "Sundays at Three" tasting and they just happened to have room for 2 more tasters. It was an opportunity we were not about to pass up!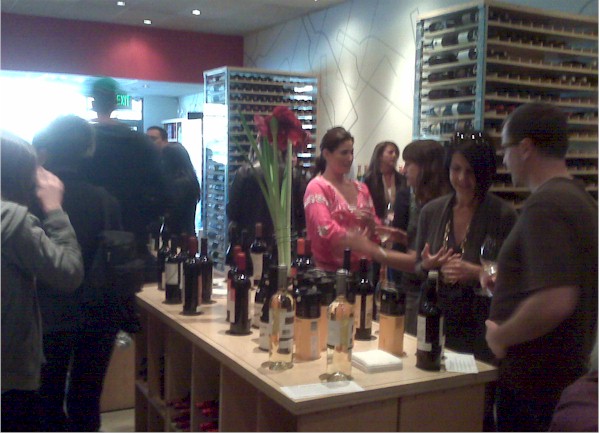 If you like wine and food pairings,
Silver Lake Wine's
"Sundays at Three" tasting is a must.  Every Sunday at 3pm, the shop fills up with wine and foodies to partake of an aperitif plus 4 tastings paired with 4 hors d'oeuvres.  Wines are typically chosen by region, and our tasting was from the Pacific Northwest.  We had 2 whites and 3 reds from three different Washington State wineries: Maison Bleue, O'Shea and Owen Roe. Proprietors George Cossette and Randy Clement imparted much information about the wines we tasted, the types of grapes used in the varietals and a bit of history on the winemakers.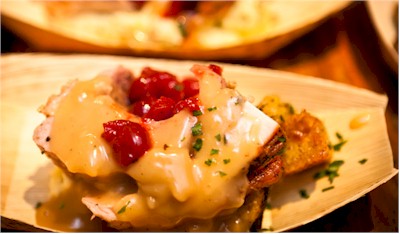 The fantastic food was provided by Heirloom LA Catering.  We had wild boar empanadas, mini tamales with finger limes, a tasty chicken and veggie dish and the final taste was a brownie and homemade banana ice cream dessert that was out of this world.  I made sure to pick up their card and would definitely recommend them if you are in the market for a caterer. You can check them out at
heirloomLA.com
I am amazed that
Silver Lake Wine
puts on such a nice pairing and charges so little.  The whole thing only costs $20 per person.  I may have to make this a weekly event, as long as I can keep myself from buying a truckload of wine on my way out the door.  Let's just say my gift certificate was put to good use!  Go with friends or make some new ones, but definitely go. You won't be disappointed! Check out my facebook page for more
things to do in the Silver Lake area
.  If you are looking to buy or sell property in 
Silver Lake
,
Echo Park
,
Los Feliz,
and
surrounding areas
, contact me directly at 213-215-4758 or check out
LApropertySolutions.com
Jenny Durling Broker Associate L.A. Property Solutions 213-215-4758
info@LApropertySolutions.com
LApropertySolutions.com
Copyright © 2011 By Jenny Durling * Silver Lake Wine is a great place to spend your Sunday afternoon*
Search for Property For Sale in Silver Lake