The Cheese Store of Silver Lake - A great place to shop for cheese, wine and other tasty treats in Sunset Junction in Silver Lake
Posted by Jenny Durling on Thursday, September 10, 2009 at 2:27:52 PM
By Jenny Durling / September 10, 2009
Comment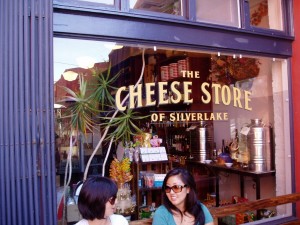 Sure, you can get a variety of cheese, wine and gift basket fare at
Trader Joes
, in
Silver Lake
, but for a true gastronomical experience, you should really check out
The Cheese Store of Silver Lake
. Chris Pollan, the store's proprietor, decided that after 25 years managing music tours, it was time for a change. He spent three years working with a friend at The Cheese Shop of Beverly Hills and decided he'd found his life long passion. So with a sense of adventure, he opened
The Cheese Store of Silver Lake
in November of 2002. It's pretty obvious from the crowds the shop gathers that this well kept secret is not such a secret any more!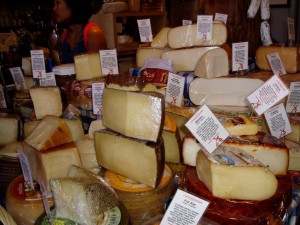 Most local folks are familiar with the great little grouping of shops at the Corner of Sunset Blvd and Sanborn Avenue in the
Sunset Junction
area of
Silver Lake
. Pollan was somewhat of a pioneer when he open T
he Cheese Store of Silver Lake
in what had been a veterinarian's office tucked behind a carniceria facing Sunset Blvd. Honestly, when the Cheese Store opened in 2002 I knew change was coming to the area in a big way. The carniceria is no longer, and that building now houses
Silver Lake's hugely popular Intelligentsia Coffee Bar
. Just to the right of the Cheese Store you'll find
Café Stella
with it's patio dining. Apparently Pollan's crystal ball was working perfect in 2002- talk about picking the right location at the right time! (Speaking of crystal balls, if witchcraft and fortune telling are your thing you should check out
Cauldron Kitty in Silver Lake
).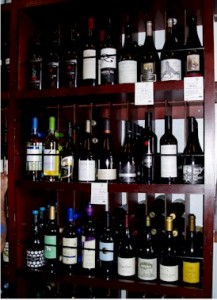 The Cheese Store of Silver Lake
is 1000 square feet of some of the most fabulous cheese, salamis, wines and accoutrements anyone could ask for, but cheese is definitely the staring attraction.
The Cheese Store of Silver Lake
carries alot of domestic cheese in order to support American producers but you'll also find array of cheese from all over the world. The staff is knowledgeable and happy to let you sample before you buy. When I stopped in the store on Sunday I picked up 3 delicious and incredibly different cheese: Raw sheep Manchego from Spain, some incredibly soft and yummy raw Cow Gorgonzola Dolce from California and what turned out to be out favorite- Midnight Moon goat cheese from Holland California. Needless to say, we were delighted with our selections and at the rate we're going we'll be due for another visit to
Sunset Junction
next weekend!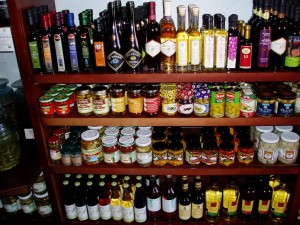 The atmosphere at the
Cheese Store of Silver Lake
is casual and friendly but business is definitely brisk these days. Our last visit was certainly different from the first time we'd been in there. The store was brimming with people eagerly sampling cheeses, asking questions, and checking out the selection of crackers, olives, oils, vinegars, pastas and locally made confections. I had a hard time staying away from the very tempting home made marshmallows near the cash register! If you're having a house warming party or heading to an evening at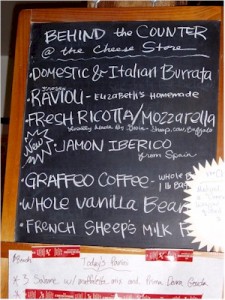 the
Hollywood Bowl
,
The Cheese Store of Silver Lake
is a great place to get what you need. Besides their selection of fresh breads and Panini sandwiches, you can order picnic baskets and party platters of meats, cheese, fruits and antipasto and grab some crackers to go with it. Need a special gift?
The Cheese Store of Sliver Lake
can help you with that too. They sell gift certificates and can put together marvelous gift baskets to fit your taste and your budget! Check the chalk board for daily specials.
The Cheese Store of Silver Lake
is located in Silver Lake's Sunset Junction at 3926 W. Sunset Blvd with parking behind the store on Sanborn Ave. Open daily, there's someone there to help you Monday - Saturday 10am - 6:30pm and Sundays from 11-5. I think I may just swing in there for lunch one day soon and grab another wedge of that fantastic Midnight Moon Goat Cheese! For more information on
Silver Lake
,
Echo Park
,
Los Feliz,
and
surrounding areas
, contact me directly at 213-215-4758 or check out
LApropertySolutions.com
Jenny Durling Broker Associate L.A. Property Solutions 213-215-4758
info@LApropertySolutions.com
LApropertySolutions.com