The Hollyhock House in Los Angeles – a beautiful creation of Architect Frank Lloyd Wright
Posted by Jenny Durling on Friday, June 3, 2011 at 2:08:47 PM
By Jenny Durling / June 3, 2011
1 Comment
Frank Lloyd Wright's
Hollyhock House
is a beautiful example of this famed architect's work. The Hollyhock house was built for oil heiress Aline Barnsdall between 1919 and 1921 and was Frank Lloyd Wright's first Los Angeles project.  The majority of his buildings are actually in Oak Park, Illinois where he designed 25 structures that were built between 1889 and 1913. Wright is famous for his prairie style architecture of open spaces, and earth hugging buildings and furniture to match!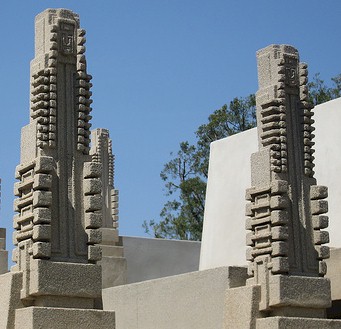 Frank Lloyd Wright had a prolific 70-year career during which he designed a plethora of amazing buildings. He has been called America's most innovative and creative architect and for good reason. 17 of his buildings have been designated by the American Institute of Architecture architectural as major contributions to American culture. The Aline Barnsdall's "Hollyhock House", was named for the use of the hollyhock flower design used both on the homes interior and exterior as well as the furniture inside. As other Frank Lloyd Wright creations, the Hollyhock house has evokes a Mayan feel and makes perfect use of the site on which it was built. The Hollyhock House was originally built as part of Frank Lloyd Wright's "Olive Hill", a thirty-six acre site theatre community, which never came to fruition.  Wright was working Tokyo's Imperial Hotel during the construction of the Hollyhock House so much of the construction supervision was left in the hands of his capable son and landscape architect Lloyd Wright and his assistant, famed architect Rudolf Schindler.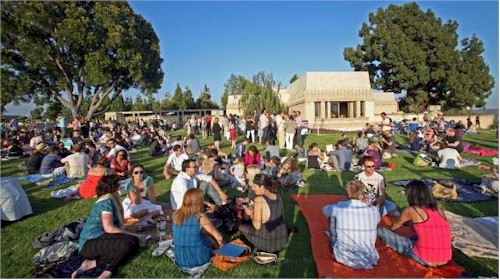 Apparently Aline Barnsdall lost interest in completing the theater community, and in1927 she donated the Hollyhock House and eleven surrounding acres to the City of Los Angeles for use as a public art park.  Today the house is part of Barnsdale Art Park in Hollywood with a local art gallery and theater and the grounds are leased for various events throughout the year.  Currently there are weekly Farmer's Markets held ath the park and during the summer month
Silver Lake Wine
hosts wine tasting events. Funds from such events combined with private donations have been used to rehabilitate the Hollyhock House and bring it back to its original glory for Angelinos and visitors to the area to enjoy. Barnsdall Art Park is located at 4800 Hollywood Boulevard in the East Hollywood area of Los Angeles. Admission to the park is free but there is a nominal fee to view the interior of the Hollyhock House.  Public tours are offered Wednesdays through Sundays?12:30, 1:30, 2:30 & 3:30 PM without reservations and private tours can be scheduled as well. Check the
Hollyhock Hock site for Park and Tour Specifics.
For more information on Hollywood and Los Feliz area places of interest and buying or selling property in  
Silver Lake
,
Echo Park
,
Los Feliz,
and
surrounding areas
, contact me directly at 213-215-4758 or check out
LApropertySolutions.com
Jenny Durling Broker Associate L.A. Property Solutions 213-215-4758
info@LApropertySolutions.com
LApropertySolutions.com
Copyright © 2011 By Jenny Durling *The Hollyhock House in Los Angeles – a beautiful creation of Architect Frank Lloyd Wright*