The Jenkyns House at 1973 Redesdale Ave in Silver Lake
Posted by Jenny Durling on Saturday, August 20, 2011 at 12:09:59 PM
By Jenny Durling / August 20, 2011
Comment
1973 Redesdale Ave Silver Lake -The Jenkyns House
The Jenkyns House, at 1973 Redesdale Avenue in Silver Lake was conceived by Josef Van der Kar in 1960.  Currently on its third owners, the The Jenkyns House is a prime example of modernist architecture and carries many of the traits made famous by the architect.  Punctuated by walls of glass, open living spaces and a brick wall fireplace, it is easily recognizable as one of Van der Kar's works.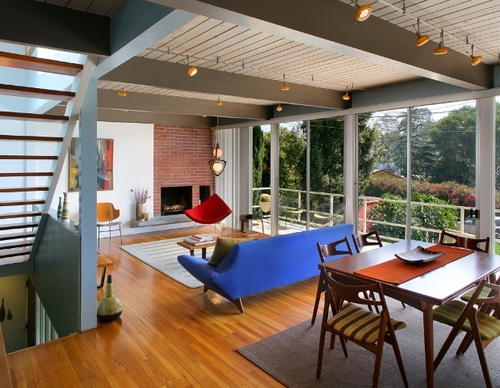 Josef Van der Kar was a second-generation modernist known both for his political activism as well as his architecture. In the early 40's, "Van" as he was known to friends, collaborated with fellow architect Gregory Ain (some of whose creations can also be found in
Silver Lake
) on a postwar housing project.  The 'Community Homes" project was to exemplify utopian ideas but when the FHA imposed covenants to ban sales of the homes to minorities, Ain and Van der Kar refused to comply and project never came to fruition. Van's creations are flat roofed, post and beam homes with sliding glass walls that bring the outdoors inside. Interior doors swing or slide away, allowing the occupant to change room configurations for their own purposes- Similar to the Avenel Housing Project in Silver Lake, designed by Gregory Ain in 1947.  1973 Redesdale Avenue in Silver Lake is infused with many of these design elements.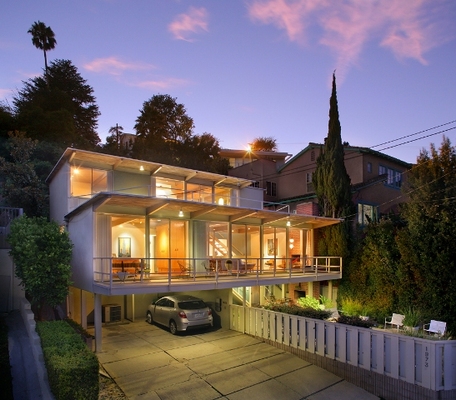 The Jenkyns House at 1973 Redesdale Ave in Silver Lake if as lovely post and beam home, set up off the street with walls of glass providing great views of the Silver Lake Reservoir.  The front half of the house is built over the two-car carport and there is an enclosed garden patio off to side. The outdoor area includes a brick firplace for outdoor entertaining and relaxing.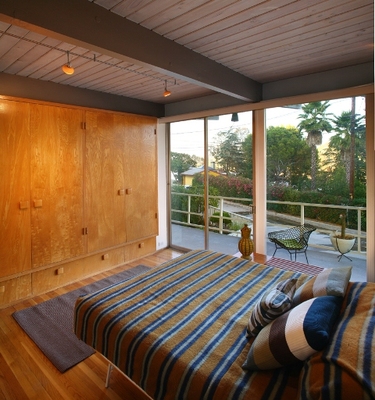 The home has 3 bedrooms and 2 baths in 1,840 square feet of living space.  On the first level there are two bedrooms with a shared bath room. On this level you 'll also find the main living areas of living, dining room and kichen. . Exposed beams and floor to ceiling glass are a signature of mid century modern homes of this period.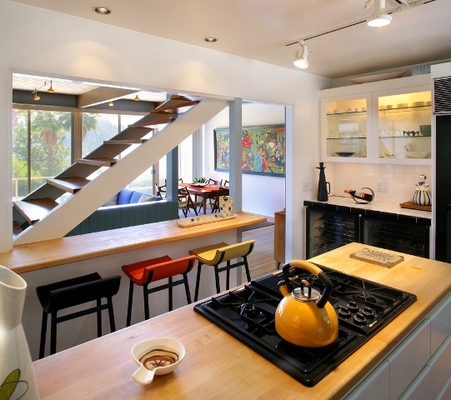 The second story houses the master bedroom and bath and a loft space that works great for an office. The floating staircases add interest to the home's style and give it a distinctive modernist flair. Currently listed with Deasy Penner & Partners for $1,070,000, the house is sure to draw attention.  Give me a call at 213-215-4758 if you'd like to check out The Jenkyns House at 1973 Redesdale Ave in Silver Lake.
 1973 Redesdale Ave - Silver Lake,CA
View Larger Map
For more information on local architecture and buying or selling property in
Silver Lake
,
Echo Park
,
Los Feliz,
and
surrounding areas
, contact me directly at 213-215-4758 or check out
LApropertySolutions.com
Jenny Durling Broker Associate L.A. Property Solutions 213-215-4758
info@LApropertySolutions.com
LApropertySolutions.com
Copyright © 2011 by Jenny Durling * The Jenkyns House at 1973 Redesdale Ave in Silver Lake*