Top 5 Scenic Drives and Sights for L.A. Locals
Posted by Brennan Flentge on Wednesday, August 22, 2018 at 7:08 PM
By Brennan Flentge / August 22, 2018
Comment
It's no wonder so many people call Los Angeles home. Some move here to be close to the coast. Others call it home because they love the big city. And some fall in love with the peace and quiet of the San Gabriel Mountains.
One of the best ways to explore the area is in your car — especially if you've mastered the art of maneuvering L.A. traffic on your joy rides. So roll the windows down and crank the music while you go enjoy these top 5 scenic drives and sights in L.A.:
1. Angeles Crest Scenic Byway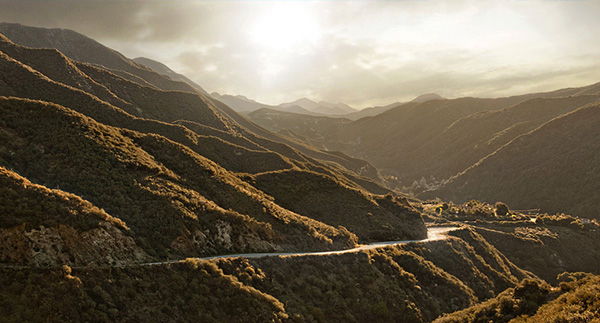 California is full of beautiful roads, but one of the most stunning is the Angeles Crest Scenic Byway that runs through the San Gabriel mountain range all the way through the Angeles National Forest. It's hard to believe that this incredible landscape is just minutes from downtown Los Angeles. Even better, the road is free of typical L.A. traffic (unless there's congestion from construction). Climbing up to almost 8,000 feet, the drive will take you through spectacular views of the Pomona Valley and the Mojave Desert.
Be sure to pack a picnic, as there are plenty of areas to stop and enjoy lunch with your view, as well as several trailheads for running, hiking or climbing. The most popular is the San Gabriel Peak, an easy hike with views you'll never forget. At the top of the summit, you can enjoy a 360 view of the surrounding area and neighborhoods of Pasadena, Glendale, and more.
2. Pacific Coast Highway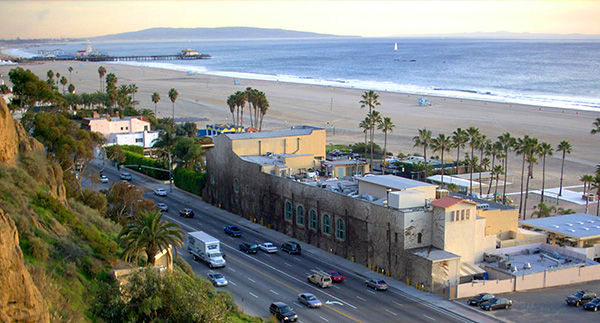 This list wouldn't be complete without mention of the Pacific Coast Highway. Stretching 650 miles from California's northern border with Oregon all the way down to San Diego, this road is the longest in California, and one of the most scenic. Picture non-stop coastal views, seaside towns, timeless forests, and delicious wine country. In L.A., lucky locals can take advantage of this road's stunning views and mountains anytime they want.
In a little less than an hour, you can drive from Santa Monica to Zuma Beach. Popular for its long, wide sandy beaches, this is one of Malibu's most beloved surf spots.
Along the way, stop by Topanga State Park which boasts some of the best views of San Fernando Valley. You'll want to make another pit stop at Pepperdine University, as this beautiful campus is nestled in the rolling foothills of the Santa Monica Mountains.
3. Mulholland Drive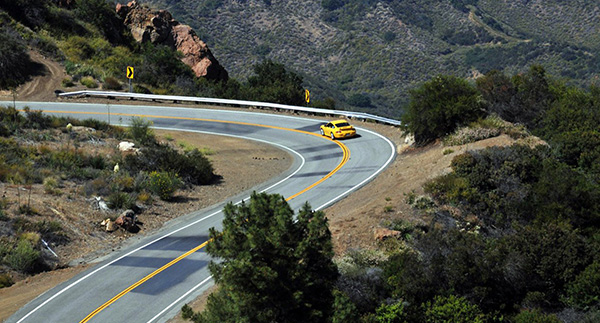 Mulholland Drive consists of 55 miles of some of Los Angeles' most iconic and scenic roads. This stretch of historic highway has been referenced in multiple films; filmmaker David Lynch has even said that one can feel "the history of Hollywood" when they're driving on it.
Named after William Mulholland, the man responsible for bringing water to the city of Los Angeles, it is also one of the longest roads the area has to offer. Some of L.A.'s most exclusive homes line the sides of this twisty-turny road dotted with steep cliff drop-offs and blind spots.
Stretching from Calabasas to the Hollywood Hills, the drive offers several scenic lookout spots and panoramic views of the city and the San Fernando Valley. So whether you're just going out for a Sunday drive or want to entertain your visiting guests, you can make this breathtaking drive all in less than an hour.
4. Stunt Road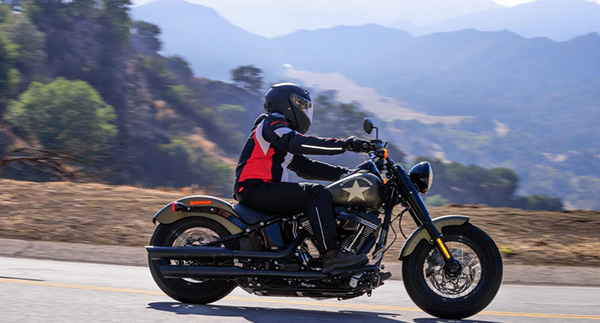 If you're already out on Mulholland Drive and feeling extra daring, test your driving skills on Stunt Road. This medium-speed road is located near Calabasas and is perfect for experienced canyon carvers looking for extraordinary views.
Weave down the view-studded road, and be sure to pull over at the T-intersection at the top of the road – you can't miss it. There you'll find the most Instagram-worthy shots of the valley. Next, take a right onto Schueren Road and you'll immediately find yourself on Piuma Road, another must-see canyon road that leads straight to the Pacific Coast Highway. Take a left onto Saddle Peak Road and you'll find more amazing views and great hiking trails to explore from there.
5. Palos Verdes Drive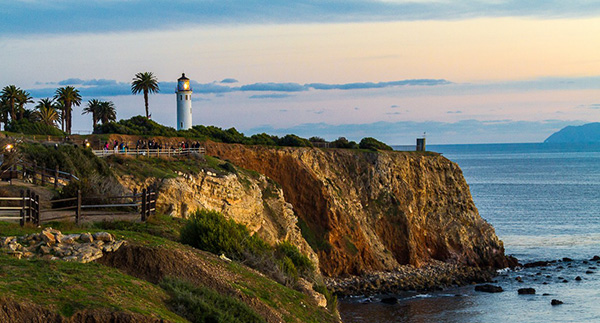 For a slow-paced drive with multiple scenic stops, hop in the family car and head to the coast of the Palos Verdes Peninsula. Take Palos Verdes Boulevard south along Torrance Beach until the road forks into Palos Verdes Drive North, and Palos Verdes Drive West.
Cruise down Palos Verdes Drive West until you reach Point Vicente Lighthouse. This relaxing stop near the cliffs is a perfect spot to watch the sunset melt into the horizon. Continue your drive to nearby Wayfarers Chapel, a stunning stone and glass chapel right on the coast for another great view. Continue the 13-mile drive into San Pedro, where you can get a glimpse of the Port of Los Angeles and stop by the Battleship USS Iowa Museum.
There's No Place Like Home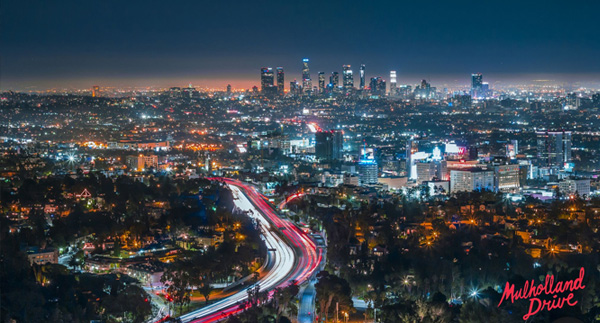 Once you've lived in L.A., you realize there's just no other place like it. Spanning five counties in southern California, the Greater Los Angeles area is home to many popular neighborhoods and communities, including Echo Park, Hollywood Hills and Pasadena.
With so many neighborhoods to choose from, choosing where to live or move to can be overwhelming at first glance. Our real estate team knows the ins and outs of Los Angeles and can help you find your next home. Not sure where you want to live? We can help! Get in touch with L.A. Property Solutions and we'll find the perfect home that fits your lifestyle.