Top 7 Reasons to Love the Mount Angelus neighborhood of Los Angeles
Posted by Jenny Durling on Wednesday, September 18, 2013 at 1:36 AM
By Jenny Durling / September 18, 2013
Comment
1. "Hollywood Hills" Living at Highland Park Prices - Many properties in Mt. Angelus are secluded tracts tucked away with their own beautiful gardens and mature trees. Often you'll find multiple terraces offering panoramic views of Glendale, Eagle Rock and the mountains beyond. It's very much like the Hollywood Hills of the Eastside with much lower asking prices.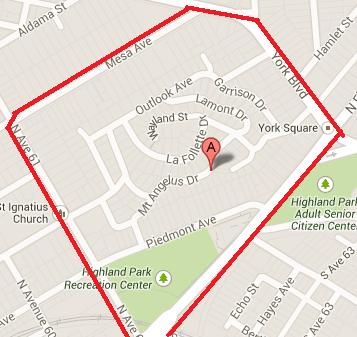 2. Fascinating History - A woman named Cora Scott Pond-Pope purchased the Mount Angelus property from the Garvanza Land Company, the holders of the original Spanish land grant, in the early 1900's. She began investing in Los Angeles real estate in 1886 and in 1905 we moved her family to the area where her husband and sons started a real estate business.Pond-Pope is also an iconic figure of the woman's suffrage movement, having organized 85 suffrage leagues and traveled nationally with her very own theatrical production called "The National Pageant" aimed at recruiting new members to the cause.
3. Highest concentration of public walk stairs - Ms. Pond-Pope also commissioned the famous Mount Angelus stairs, of which their are nine sets in the neighborhood. Though about half are currently closed to the public to deter loitering and crime, there is a strong push known as "The Secret Stairs Movement" to resurrect them to their intended purpose. Occasionally, they are all re-opened for highly popular stair walking events and tours of the historic neighborhood, as well as on Halloween. It's not just Silver Lake that has a plethora of stair streets!
4. A Home for Every Taste - As you traverse the stairs up and down the hill of Mt. Angelus, you'll notice a striking trend in property styles: the houses get more modern the higher you go. In a Los Angeles Times article Charles Fisher, a former resident who is active with the Highland Park Heritage Trust, observed, "The houses at the base of the hill are turn-of-the-century cottages dating from 1890 to 1910. The next layer are houses from the Mission Revival era up to the First World War. Higher up are Spanish Colonial Revival homes built in the 1920s and '30s. At the top of the hill are the most contemporary houses, which were built in the 1950s and '60s."
5. Close to a vibrant Highland Park Scene - Just a few blocks away is York Boulevard, home of trendy restaurants and bars such as The York on York, Ba, and The Hermosillo. Head south on Figueroa and you'll find the expansive Sycamore Grove Park, where The Ramona Hall Community Center offers yoga, dance, sports, and music classes for all ages. Plus, the nearby Lummis House, Heritage Square Museum and Arroyo Seco bike path guarantee endless entertainment options for the entire family year-round.

6. Hidden Gem - Although Mt. Angelus has occasionally been featured on lists like "Top Hidden Neighborhoods of Los Angeles", it's still a relatively unknown corner of the city. For property buyers, this translates into a substantial upside for market values. As real estate investment money continues to move east at a rapid pace, neighborhoods like Mount Angelus will likely see an increase in popularity and desirability.
7. Historic Preservation Already in Place - Mount Angelus is already certified as an Historic Preservation Overlay Zone, which means that its distinct historic character will remain intact. All exterior alterations to designated properties within the district must undergo a review and approval process. They are approved only if they contribute to the overarching aesthetic that was determined in the original application process.
Read more about the benefits of buying in an HPOZ here.
Mount Angelus is a unique, beautiful enclave to explore when shopping for a home in the Highland Park area. Here is a great place to begin if you are considering income property as a possibility in one of Los Angeles' historic neighborhoods.
For more information on the area and Los Angeles real estate in general, give us a call at 213-215-4758.
L.A. Property Solutions
Homes For Sale Now in Mount Angelus