What the Yelp!?
Posted by Jenny Durling on Thursday, November 15, 2012 at 10:02:21 PM
By Jenny Durling / November 15, 2012
Comment
What the Yelp or What's with Yelp? Both good questions. If you are like me, you probably check reviews on Yelp for a variety of things. For me it's mostly restaurants but I know alot of people look on Yelp for anything and everything. That being the case, it only made sense that I have a business profile on Yelp as well. I would imagine alot of agents do. So let me just rant a little here. If you aren't already aware of it, Yelp has an automatic filter for reviews that are posted. You can read all about it in their FAQ section. I understand that they are trying to prevent false reviews but, but it's likely I'll never know why they think so many of mine are fraudulent. I actually have 24 review on Yelp. Great, right? Well, only 8 of those reviews are showing up. The other 16 have been filtered out! Sure, you can click on 'filtered' at the bottom of the page to read them all, but how many potential clients are going to do that? (If you are reading this and you ARE looking for reviews on me, please go to the bottom of the page and click "filtered" to read them all).  If anyone has any suggestions that will get the filtered reviews unfiltered, I'm all ears. I recently received a a call from Yelp's sales department suggesting that I buy advertising from them to which I said, "sure, as soon as you unfilter my reviews." I was promptly told that NOBODY has control over that and was directed to their FAQ section. Well, SOMEBODY has control over it - like whoever wrote and maintains the filtering program? Seems to me their filter is not working very well or is working TOO well if two thirds of my reviews are filtered. Ok, so there doesn't appear to be anything I can do to get ALL of my reviews to show up on my main paige. It's something I apparently have to live with and hopefully less of my future reviews will get stuck in the filter.  Another issue: Must Yelp add insult to injury by posting revolving reviews of OTHER Realtors BELOW my profile but ABOVE my own reviews?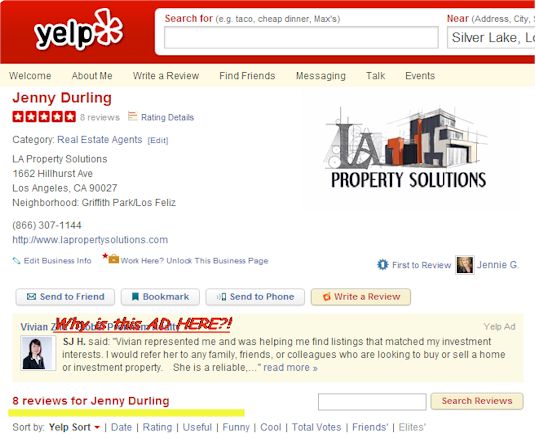 What the Yelp?
So you see my name, my logo and info, then this other agent's picture and review with a link to her Yelp page? Who is this Vivian and why is she staring out from the page between my profile and my own reviews. (The 1/3 of my reviews that are visible, that is!!). What kind of practice is that? Now I'm left to wonder if I actually PAY for advertising on Yelp if they will stop this annoying practice. It's painful to 'reward' someone for bad behavior but having another agent's review smack in the middle of your own page pretty much defeats the purpose of having a profile on the site at all. I don't know if this rant is going to get any of my questons answered, but I do feel a little better having gotten that off my chest. Thanks for listening!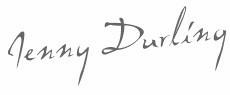 Jenny Durling Broker L.A. Property Solutions 213-215-4758
info@LApropertySolutions.com
LApropertySolutions.com